Brasil 2015
Todo numa vida parece ter uma relações, porque eu ainda não cessei com explorações, embora eu não seja sempre a pessoa que procura oportunidades. Não sei qual é a razão, mas eu vou ir no Brasil no verão deste ano. Tão excitado com este novo continente, América.
Como iniciou
Ao inicio de 2015, Prof. Becquart da universidade de Lille visitou Lyon para assistir uma defesa de tese. Algums meses mais tarde, ela me ofreceu uma estadia de pesquisa com o programa que se chama CAPES-COFECUB, que é aparentemente um programa do Ministério das relações exteriores. Não tinha idéia por quê eu, talvez porque tem um pesquisador, Roberto Veiga (que legal a photo), na USP que escribiu a sua tese no INSA algums meses atrás. Mesmo assim, eu vou ficar lá do inicio do julho até o fim do setembro.
Getting started
Beginning of June 2015, with my plan getting concretised, I became aware of a problem: I need a visa for Brazil. Fine, I'm used to this problem. My first thoughts:
I call an honorary consulate in/near Lyon
Travel agency
By post
Ok I googled the first one and found out there was an honorary consulate of Brazil here in Lyon. I called them.
No one picking up the phone.
It turned out that it was permanently closed. Fine.
Frida, our beloved secretary, had looked for a travel agency meanwhile. However, they said it would take 25 days to get the visa. In this moment, I did not have all the documents required and had to wait a couple of days. I'm leaving Lyon on July 1st. Not enough time.
In the end, I had to contact the General Consulate of Brazil in Paris, and I found out that I had to go there personally to hand in all the documents.
However, the next slot at the consulate that was empty was the 23rd of June, which was just a week before my departure. Wait, I still have to get back my passport with the visa. A week is enough???
Apparently it's usually not enough, but they told me it would be possible to get it back a week later. So in the end, I will go back to Paris on June 30th, just a day before my departure. So senseless all this stuff. Especially altogether it'll cost something like 350 Euros for just a piece of paper. Regardless of whoever pays it, this society seems to be so efficient in total :)
23rd of June, early in the morning, I did not want to be there too late since embassies/consulates I have seen were always VERY serious places. One minute too late would mean too late forever.
I arrived there 15 minutes in advance. There was no real waiting room, simply there were chairs right behind the ticket (?) counter. In front of me was a father whose daughter is to study in Brazil next year. I observed the conversation between him and the person behind the window:
"Is this (on the photo) your daughter? Oh she's really pretty. She will certainly be very popular in Brazil."
"Does her name, Mai, have a particular meaning?" "Well, it's Marie in Breton (=dialect of Britanny)" "Oh really, it's a cute name."
Well, so far the embassies I have visited in my life were mainly those from the post-soviet countries. Here for Brazil, the atmosphere seems to be very different.
A couple of minutes later, it was my turn.
"You need your visa just for two months?" "Yes."
Obviously she was confused by the fact that I needed a research visa for just two months, as the normal research visa is for six months and for two months French people do not need a visa. So a research visa for 2 months. Where's the category.
There were couple of questions I had to answer but anyway I did not have to praise the Islam or explain why I'm not a terrorist. Easy. I got a ticket in the end on which it was written that my visa would be ready on June 30th. Perfect!
A week later, I went back to the consulate of Brazil. I waited for 5 minutes and got my passport back. By the way I used my ID photo of more then 12 years ago for the visa. Virtually I did not change since then apparently. Now at least I can see myself of 12 years ago on the visa.
Since the consulate was near Champs Elysées, I strolled down the street, passing la place de Concorde and Louvre museum. Whenever I have a business trip, it's always around Sorbonne university. Nice to see again the northern part of Paris. The first time that I came to Paris was 11 years ago but I must say, especially around Champs Elysées, thinking back the dirty side streets and dodgy merchant of 11 years ago, Paris has become a much better place meanwhile.
Arrival
I was supposed to have a meeting related to my work near Aix-en-Provence just a day before my departure so I took a flight from Marseille to Frankfurt, then to São Paulo. This meeting was canceled, but I could not cancel my ticket. I still decided to stay a night in Marseille. Fortunately I could find a brilliant couch host there, Max, who was to go to Japan this summer. Despite my initial unwillingness to go to Marseille, I had a great time with him there.
Next day, I left his apartment much earlier in the morning than planned, thinking it's always better to be there early than too late, which turned out to be a brilliant reflection, as it was not very comfortable to go to the airport from the main railway station...
Marseille airport, my plane was to leave for Frankfurt. Next to my gate, there was a plane heading for Athens. The Greek referendum is this Sunday. Hopefully there'll be a day, where that picture does not evoke any emotion at all...
So why did I buy a flight going via Frankfurt? That's because my students of last year (cf. this page) were going back to Japan on this day. The surprise for them is that I was not waiting for them before the departure control, but directly in front of the plane.
After a year of boot camp in Germany, they looked the same, which must have been the same for me ten years ago, though certainly everything has changed meanwhile. Besides, in my case my exchange year made out strongly my life after that year, so still I can look forward to their future.
I had a night flight that left Frankfurt at 10pm. Usually I cannot sleep in the plane but this time out of 11 hours in the flight I could sleep around 8 hours, making the entire trip really short, even if my sleep was not very deep either.
I got this piece of paper in the plane that I needed for the immigration control, though the police officer obviously did not care about what was written there.
This week, France is completely overwhelmed by a historical heat wave, with temperature going up to 40 °C in Lyon. Here in São Paulo, we had something like 20 °C, perfect temperature, though it was raining, not quite what people think of when they talk about Brazil :)
I was supposed to go to Roberto's place by shuttle bus and subway, but fortunately I met a Japanese guy who was going to the city center by taxi, who offered me a ride to right in front of Roberto's apartment. So cool. However, the problem was the taxi driver, who did not appear. Anyway, when this Japanese guy called the taxi driver, he said he would arrive in a couple of minutes, so we decided to order a cup of coffee while waiting for him. First time for me to drink coffee in Brazil, and especially, the first time to speak Portuguese with a native speaker.
Well, whether it went fluently or not, I could still order two cups of coffee. By the way, here in Brazil, I heard that people eat more rice than bread. And accordingly here in this small pseudo-Mcdonald's shop I saw a rice cooker.
We waited for two hours for the taxi driver. Well, welcome to Brazil. At least he came eventually.
Roberto's place was on the outskirts of the city center of São Paulo, Faria Lima, if I can ever simply talk about a "city center" in São Paulo. From the subway station, where we met, we had to cross a 4-lane street with no zebra crossing to reach the building of his apartment. Neat place :) A problem for me was that, like in China, it is not possible to drink tap water in Brazil. It'll be hard to bring water up to the 7th floor where Roberto's apartment regularly...
Even though Roberto does not seem to like Brazil so much, there's an excellent thing in this country: food. I'm not quite a carnivore person, but here I could get a high-quality steak with all you can eat salad below 10 Euros. Great lunch.
At the same time, it is hard to talk about the Brazilian cuisine without looking at its international diversity. Just below Roberto's apartment, there was a Sukiya, a famous restaurant chain from Japan. This was already quite a surprise for me but I'll probably find a lot more Japanese stuff in this country.
After the lunch, we went to Roberto's lab, which was just two subway stations and a bus stop away, where I'll start to work next week. Since it was Friday and many people are now in Canada for a conference, there was almost no one there. This university, USP, is one of two state universities of São Paulo and the best university in Latin America. The equipment seemed to be good, but unfortunately, there are apparently not so many foreigners at the lab, except for students from other Latin American countries. So a short research stay of a foreigner like my case is rather rare, making it really complicated to get access to the university canteen. I'll have to figure out what to eat at noon from next week on...
Now I'm considering to buy a bicycle since both the subway ticket and the bus ticket cost 3.5 reais, which is about 1 Euro, so 4 Euros per day. Anyway I think it would be interesting to cycle around São Paulo as there are quite a lot of bikeways here.
July 4, Liberdade, largest Japanese community in the world
Following day, which was a Saturday, before we went out, Roberto asked me if I needed sun cream, because my skin was white. In Europe my skin is absolutely not considered white but here in Brazil they probably have a very different perception.
Here in São Paulo, there's a big Japanese community that immigrated there around a century ago. So they are now fully integrated in the Brazilian culture and do not speak Japanese anymore, but still there's a strong influence from the Japanese culture in the district of Liberdade.
When we went there, they were celebrating the 120's anniversary of Brazilian-Japanese partnership together with the Japanese traditional festival, Tanabata. The concert (cf. 3rd photo) was not quite the same as in Japan or in Europe, where it always highlights the Anime whatever culture (though it was also partially like this), but they also did 70's songs up to traditional songs of Japan. It strongly reminded me of Japan in the 90's.
The Japanese culture in Brazil has taken its own way, which is a natural thing after a century of separation. Anyway this fried pie called "pastel" in Portuguese with beef and cheese inside (though it may change depending on where you are and what you like) is considered a typical Japanese dish here in São Paulo. Neither fried stuff nor cheese nor beef is quite Japanese (I guess it rather comes from China).
A particularity here in Brazil is that it does not matter where you come from, the people here will probably always think you are Brazilian, as long as you don't clearly look like a tourist. So on the market everyone directly talked to me in Portuguese. Now I'm just trying not to speak to appear Brazilian everywhere.
Pretty much all the restaurants I have seen here in São Paulo had the same system: it looks like all you can eat and you put as much as you want whatever you like, and the price is determined by its weight. Sounds like an Asian restaurant if it was in Europe but this restaurant is supposedly a good one and still has this system. Here, I had a salad with balsamico, sushi and curry-like stuff. Maybe in order to realize the multi-national aspect of São Paulo this is the best system...
Whether you noticed or not, the guy on the photo is Roberto. And guess on which photos he has already appeared :)
Toilet nightmare, once more
And there comes back the nightmare of China: toilet. (Caution: not a good idea to read this part while eating). So, do you remember what was the problem in China with toilets? (not sure whether I wrote it here). The thing was, you don't flush down the toilet paper in Brazil (and partially in China), but you must put it into the trash box next to the toilet. So your legacy will remain there as long as the trash box is not emptied. Well, Brazilians, I'm usually not a kind of person who imposes a foreign culture on local people, but this IS a problem. Please please consider what would make the world a better place!
July 6th, first workday
Good news: even though no one really knows what the current central government is doing, there's at least one thing they do well: there's often a bikeway in the middle of the street. According to Roberto, there are quite a lot of pedestrians using it instead of sidewalks because it's less dangerous there. It sounded like the system itself is not working well but so far it looks pretty okay. As I said, this is a project of the current local government that started 2 years ago and by the end of this year, they planned to extend it to 400km (cf. company's website).
Yet the cars do not stop at zebra crossings. Whether you want to reach the Grand Line by crossing the Calm Belts or the Revers Mountain is up to you...
So my first day at the lab (pity that I did not take a photo, coming soon). In contrast to the compartment offices in France, they share a larger room with a lot of people, creating a sort of very sociable area. In the middle of this 7.1 surround sound system, my Portuguese has unfortunately not been good enough to break my silence but I feel very comfortable with people caring a lot about me. Other than one master student, I'm supposed not to collaborate with other students (sure, because my presence here is pretty much ungrounded ('smile')), but I think I'll still have very good contact with them.
One of the guys, Arthur, came with us for dinner. He is supposed to go to Sendai in the near future so maybe we can try to communicate in Portuguese and Japanese.
There are Roberto and Arthur on the photo. And the lady in the middle of the bus is so to speak the 'cashier' where you have to buy the ticket, that is to say, the bus driver does not care about the tickets, you have to come to the middle of the bus to get the ticket in Brazil. Consequently there are passengers only in the rear half of the bus. I'm just wondering whether the front half stays empty even if the bus is full.
Jesus in Brazil
At home (Roberto's place), I switched on the TV, looking for something easy to understand. On the first channel, there was a middle-aged guy talking, alone, all the time. Not quite clear what he was saying.
Roberto: "He's talking about Jesus"
Ah ok. Apparently I crashed into a religious channel. Next channel: another middle aged guy talking, alone, all the time, pretty much the same as the first one. Next channel: the same. Next channel, again. And then next...
Conclusion: Brazilians are religious. I think I'll learn a very particular Portuguese from the television.
July 7, Couch surfing community in São Paulo
Since São Paulo is a metropolitan city, there's also something like a couch surfer meeting (for those who don't know what a couchsurfer meeting is: it has usually nothing to do with couch surfing itself. It's just a place where people get together who are interested in travelling or foreign cultures in general etc.). As there was no one coming with me there, I did not take my camera, but this particular couch surfer meeting happened to celebrate its 100th meeting. Since it was clearly not as dangerous as the others had told me outside, I should have taken my camera.
There were maybe 50 people there? It was much larger than in Lyon, but especially, if you go there as a foreigner, people will probably love you. The thing is, you get a name tag at the entrance. So the others will know what is you name and where you come from. In my case, I did not really talk to anyone but people directly came to me to talk. I would have never experienced anything like this in Japan or Europe.
Just to show how small the world is, I met a friend of mine from Lyon, Luciana, there. (I'll try to figure out how to turn the picture someday...)
July 8, a bit of daily life...
São Paulo is a busy crowded place, but the campus of USP, which is in the south-west of the city, is pretty much in the middle of a forest. The thing is just, for someone like me who comes from Japan, it looks so exotic.
Here on the campus I see a lot of birds, that do not fly. They just walk around. Are they just lazy or can't they fly?
As I wrote above, it's not very common to host a Ph.D student at USP, so I have not been able to get an ID so far (I'm non-existent!). In order to get one (without a student's card I cannot even go to the canteen), we decided to register me for one of Roberto's courses "Introduction to atomistic modeling". I still have not got an ID but still I went to his class.
Brazilians have usually a very different character than Japanese or Europeans, but just as sciences are universal, nerds are nerds. Greeks and Germans may not understand each other, but the nerds of both countries probably do.
And nerds' stuff, parallel computing. I explained it to Thaicia, one of Roberto's master student. I'll put the stuff here on this website too because it's something that actually you cannot really find in the Internet.
As I wrote above, we would normally have to take the metro to go to Butantã, which is the nearest subway station from the university, and then the bus, which would cost 7 reals in total for me, though Roberto would not have to pay for the bus because he has an official status at the university. Although it's not very important to me whether I pay the bus or not, Roberto has so far always insisted on walking from the subway station to the lab, which I also prefer, not because of money, but for discoveries like on this photo. Cool thing about Brazil, it may be something religious.
Mango
I have once been in Saipan, of which I don't remember anything except for one thing, I had diarrhea due to mango. Since then, I often avoided mangos.
And twenty something years since then, I discovered for the first time, what a brilliant thing a mango actually is, here in Brazil. According to Roberto, the mangos would be frozen first, before they are exported to Europe. So maybe I had fresh mangos for the first time (since Saipan...)
July 9, República. Dangerous place of São Paulo?
There's this brilliant guy, Arthur, who sits next to me in the office, who suggested to go to a Peruvian restaurant, which was located in the district of República. It is allegedly famous for being a very dangerous place (the choice of this Peruvian restaurant was not related to it).
Even though the danger is still played down on wikitravel, it was still possible to feel some kind of uneasiness there. Maybe it's simply related to the presence of drug addicted people, mostly not quite capable to move.
It's also hard to say what a dangerous place exactly looks like. It must be a question of how likely it is to be in the wrong place in the wrong moment, so if you experience it, you experience it to the end. At the same time, people told me I should not talk to Muslims in China because they are dangerous, but I haven't been able to confirm it yet. I personally think it's also important to dare it every now and then.
At least the sensation of danger makes you feel alive.
Regardless of the danger of the district, it was a very normal restaurant, though the spice of Peruvian food is pretty strong. "Pretty strong" here has a very different definition, so don't dare too much.
After the restaurant, we strolled into the main street of República, and were about to go to one of the pubs there. But suddenly, the boys decided to get back to the area near the university. What's going on?
One of the girls (sorry I don't remember her name anymore) explained to me "the boys did not want to go there because it's a gay bar".
Even though the same-sex marriage is legal in Brazil, the people are actually not quite fond of gays here. Anyway in the end, it wasn't related to the danger of the district that we left this place.
In the first mail that Michel (my boss in France) wrote to Roberto, he said "please tell Sam that he should not drink too much beer". And here's one photo just for him. Take it away. :)
The beer in Brazil is in general quite sweet. A little bit like in France. I thought it would be more like in Germany as there were so many immigrants from Germany.
Roberto went back home even without coming to the pub (near the university) with us. I had to go back home all alone. And I missed the last subway. With Arthur insisting it be better that he comes with me to the bus stop, I still went there alone, just to find out I did not know that a bus stop looked like. Hopefully it won't be a problem.
Eventually, I gave up the idea to go back home by bus, stayed there around an hour more, and took a taxi to get back home.
Just to complete the story, this república district has a very different face in the daytime. No danger or what so ever, just a lot of people. I also got back there a couple of days later for a concert with Arthur (though it appeared to me more like a talkshow, but maybe this is what they call a concert). The uneasiness that I talked about may be also related to the weird buildings in this district, including this yellow church. There is by the way another church just behind this yellow one (a sort of whitish-beige building). This kind of represents the situation in Brazil. Pretty cool :)
July 10, coffee and Brazil
Brazil, the country of coffee, in which "breakfast" is called "café da manhã (=morning coffee)" and "supper" is called "café da tarde (=late coffee)". However, there was no coffee machine at Roberto's place, making it technically impossible for us to have a breakfast and supper. Finally he got one today and I was the one to be relieved.
Brazil sometimes is a complicated country, depending on what you are used to. For example in the case of Roberto, his wife and child live in the state called Minas, because it is where Roberto and his wife come from and their parents still live there. It's not easy for Roberto to convince his wife to go elsewhere, so he has to go to Minas every weekend so I'll probably be completely alone here every weekend
Survival washing
There was actually another problem at Roberto's place: there's no washing machine. There's Arthur who offered his washing machine at his place, but his apartment is not quite nearby. So what to do?
There's something called an "individual project" during summer holidays at school in Japan. When I was 9, I had a project with my mother to investigate how different washing methods affect dirty clothes. If I remember well, we did three different methods: wash with water, wash with natural soap and wash with chemical washing liquid. We smeared a piece of rag with different things like ketchup or oil etc. The result was quite disappointing to me at that time: there was almost no difference in different methods, more precisely, it was always clean after the operation. At that time, I was not quite aware of the great conclusion of that experiment: it doesn't matter what you do, if you do something, it'll always be come clean.
With this in mind, I washed all I had to wash.
There's a main street in front of Roberto's apartment, so I get plenty of sunlight when there's the sun in front of the window. However, when I put out the wet clothes on the balcony, the sunlight was coming from the right side, with my clothes scarcely getting sunlight. I just thought I should have done it earlier.
A couple of hours later, the Sun was right in front of the window. I was VERY confused but actually this is a normal thing here: in the southern hemisphere, the Sun goes from the right side to the left, because simply the Sun is in the north and it goes from the east to the west.
July 11, Local antiquity market, coconut and Bhut Jolokia
There's this brilliant guy called Arthur who sits just next to me in the office (he may have already appeared above), with whom I went to a local market Benedito Calixto near Roberto's apartment, where they sell antiquities and artistic stuff, which I did not expect to see in Brazil. It's an entirely independent story but Arthur (whose Japanese name is Seiji, which strongly reminds me of Whisper of the Hearts) will go to the Netherlands this year, which has the surface area of just one sixth of the state of São Paulo.
On the market, I ordered a "tapioca", which I knew as a drink or pudding.
Vendor: "salty or sweet?"
...salty??
Actually the tapioca is not exactly what we know in Europe or in Japan. It's something like a sandwich and what you find inside is variable. As I ordered a sweet tapioca, there was coconut inside. (For Brazilians: it often looks like this in Europe and like this in Japan).
Did you know that the chili pepper comes exclusively from America? People often think of India when they talk about spicy food but even Indians did not have chili peppers before the exploration of America by the Europeans. Here on the market, I found a local chili paste that contains Bhut Jolokia. So, to be honest, I have NEVER had such a strong sauce, though what I got was just a tip of sauce. I'll certainly come back to this market to buy it for my lab just before my return to Europe. Just for info: there's nothing spicy in France. The people are absolutely not used to it. I'm looking forward to something ... :)
Beer in Brazil
This section certainly has to be completed with further information that I will surely obtain in the coming days in Brazil (because now drinking culture kind of sneaked up into my daily life now). The most famous beer here in Brazil from Germany is probably Paulaner, followed by Franziskaner, but every now and then, you can find local brands that carry a German name. This one for example, Baden-Baden, which is a city located near Strasbourg. I personally would have come up with a better name...
The beer here in general tastes by the way a tad sweet, somewhere between the French beer and the Belgian beer. So if you come from Germany or Japan, it must be a very new experience (anyway you are obliged to drink local beer because imported stuff is WAY too expensive in Brazil).
At least it was strong enough to get me as drunk as I could ask a passer-by to take a photo in Portuguese. Well, not to say he replied in English :)
Jul. 13, Exchange rate and sport
Just a day before the Bastille Day, a couple of things happened, that allowed me to change my lifestyle here.
Currently, 1 Euro equals to 3,50 reals, which has not changed since my arrival here. The problem was, when I arrived at the airport on the very first day, I simply followed the instructions of other Brazilians and changed money there, though still I was not ready to believe that it would be the cheapest way to change money. So I changed 100 Euros and got back 250 Euros... Essentially, I lost something like 1/3 of my money.
With Roberto later insisting that ATMs be the worst place to get money because I would lose even more money there, which is not quite the case when I draw money in Japan with my French credit card. In the end, I decided to give it a try and drew 300 reals, for which about 90 Euros were charged, which is equivalent to about 315 reals.
So if you go to Brazil, don't believe what the others say. Contact your bank or just give it a try.
Secondly, Greece and EU finally put up a new bailout, which means large fluctuations of the Euro would be avoided. That is to say, I won't be suddenly poor or stray into favelas with worthless money.
Thirdly, I'm now getting used to the Brazilian lifestyle so I want to customize my daily life in my way.
Conclusion: I can spend more money, and I'll do it to make a better world (for me).
I usually jog everyday in France, which I suspended here in Brazil, thinking two months would not do too much harm, just to find out it was too wrong.
At the same time, there was Luciana (who appeared here), who spoke of a group of people doing cross fit in the Ibirapuera park.
Since I did not bring anything for jogging, I went to a local Carrefour. I had around 300 reais in my wallet, which is about 100 USD. I was not quite sure if I could buy a pair of shoes, a t-shirt and shorts, as São Paulo is one of the most expensive cities in the world.
However, as I found out, the price of shoes varied something like between 30 and 60 BRL (not USD!!). In the end, together with all the other stuff, I paid 100 BRL. Surprise :) (positive one)
Ibirapuera park was about 6 km away from Roberto's apartment. No subway station nearby. I decided to jog up there. Luckily, I crossed apparently a richer district of São Paulo, no need to pay attention to danger. Not that the drivers are friendlier though :)
And Ibirapuera park also shared the same atmosphere with the district, elegant and unnaturally natural, as many parks in metropolitan cities. But above all, the number of people involved in some kind of recreational activity (mostly sport) is impressive. Probably that's also related to the air pollution in São Paulo, which is unfortunately visible on sunny days.
After 1 hour or 2? of cross fit, it was almost impossible to jog back home. But I made it. Twice a week. I'm looking forward to next sessions :)
Credit cards in Brazil
Here in São Paulo, people usually pay by debit/credit card, which I think is an excellent thing. Interestingly, you can find the logo of Mastercard alone without Visa very often here. Arthur told me that it does not mean that they do not accept Visa, but as I looked for the market share in Brazil, it turned out that while Visa has 48.5% and Mastercard has 31.7% of market share world wide (cf. this report), Visa has 46% and Mastercard has 37% of market share in Brazil this article).
So what? Well, nothing. I just found it interesting...
By the way, Brazilians pay pretty much everything by card. Even if you go to a restaurant with other people, i.e. you want to divide the bill, you just have to tell it at the cashier and they will charge you the amount you say. According to a report from Banco do Brasil, the stock of issued credit cards increased from 39 million in the first quarter of 2003 to 118 million in the fourth quarter of 2007. Especially in the case of Brazil, I guess this fact made the streets much safer as thieves cannot expect the people to be carrying a lot of money.
July 17, Brazilian lab life
There's something very important to know in order to cooperate with researchers from different countries: how they work. In my opinion, this is something that is really underestimated by many people. Anyway, what is so different? Well, since here we all share the same office, there's a sort of non stop multi-spiral communication that may or may not be related to the work. There's been a very long discussion whether it's a good thing or a bad thing around me, and I personally still don't know the answer, but for sure, it is an important thing that it is socially accepted, because if you don't want to talk, you just don't. In this sense, there's something Germans and Japanese must learn from Brazilians.
Well, in terms of communication there's little difference between France and Brazil. However, a great thing here in Brazil is there's almost no separation between different positions, like professors and students. And this kind of stuff is sometimes REALLY hinky in France, like different social classes.
Today, which was a Friday, we had a small celebration with all the co-workers. And among those who remained to the end, there was Prof. André Paulo Tschiptschin, who has the most complicated surname I've seen so far in Brazil, who is by the way the boss of the department (?). And appropriately enough, the way he drank was also maestoso. Even though he was someone who did his Post-doc stay in Germany in the year I was born, there was nothing separating him and the students.
The ultimate purpose of this place is the research. Apparently the Brazilians are loyal to this principle.
July 18, Brazilian jokes?
One of my colleagues, Arthur, invited me to a BBQ at his friend's place, with all the alumni of USP (he did his bachelor and master at USP too). If I was Japan, I would have wondered whether it would be okay to participate in such a closed circle. I'm in Brazil, I didn't care.
Here in Brazil, whenever there's ONE foreigner, everyone speaks English, even among themselves (if they can), which would be a very weird thing in many other countries (esp. in Japan). Maybe because in contrast to other countries like France Germany or Japan, where there's been a relatively solid language, the linguistic situation was unstable in Brazil.
Just as Arthur, these were the best educated people in Brazil, but one of them is now even studying Social Sciences out of interest in parallel to his work. It has become rare in developed countries to see someone who studies actively, maybe except for Germany. He told me that he wants to find a solution for political problems in Brazil. I was impressed.
Most of them have been abroad, so actually they spoke also different languages than English, like Italian German etc. Roberto was complaining about students who do not want to get experiences in foreign countries, but apparently there are quite a lot of students who've been there. One of the guys was to go to Germany in two months, who proudly showed me his ribbon, on which it was written "Oktoberfest", as on the photo. Find the error :)
The BBQ itself started at noon (?) and Arthur and I arrived there at 2pm. After an extremely elongated lunch, the session went over to telling jokes. There was one brilliant guy who told a couple of possibly nice jokes with less success, whereas I still appreciate his effort to tell them to me first in English and then in Portuguese for the others, though actually everyone had a very good level of English. Unfortunately, his jokes were either too explicit or too complicated to understand, there's one told by another guy (which kind of reflects what Brazilians think of Portuguese):
There's one American, one Italian and one Portuguese about to be executed (by shooting). They try to think hard to escape the execution. First, the executioner points the rifle at the Italian, who suddenly shouts:
"EARTHQUAKE!!! EARTHQUAKE!!"
and runs away. Then the executioner points the rifle at the American, who all of a sudden shouts:
"HURRICANE!! HURRICANE!!"
and runs away. Lastly, the executioner points the rifle at the Portuguese, who all of a sudden shouts:
"FIRE!!!"
Brazilian English (and Mario's birthday)
A lovely day in a small restaurant in São Paulo, with plenty of stuff I see for the first time, there's an unkown big fruit on my plate. I ask my friend with whom I was there what it was. His response:
"It's a Brazilian fruit. Prove it."
So, although you might feel obliged to take the fruit under the optical microscope to identify a trace that is solely native to the Eastern part of Amazon rainforest, what he wanted to say was simply "try it".
Brazilians have a surprisingly high English level, though as you may know, there are a couple of false friends, such as "eventually" or "actually", though these are pretty much the same for most of the Western European languages.
The particularly difficult thing (for me) to understand here in Brazil is the "e" that they sometimes put in front of words starting with "st", like "star" or "station". It took at least 5 minutes to figure out that they were talking about beer when they said "estella". I guess it comes from the Arabic influence on the Iberian peninsula as you can see the same phenomenon in Persian (actually, as far as I know, it's impossible in the Arabic writing system to start a word with two consonants).
Even though they put an extra "e" in front of the word, you may bump into a situation where they remove the "e" at the end of the word, which appears for example for "probability" (in this case it's the "y" that is dropped). That's because when they say for example "matlab" (which is a software for math calculation), they add an extra vowel "i" because they don't like that a word ends with a "b" in Portuguese. So the problem is, since they systematically add an "i" at the end of the word, they often get confused if a word ends with an "i" or "y" by default, just as Windows 95 getting confused if an html file has the format .html.
Otherwise you just have to be more creative to understand some expressions, because they use incredibly cool expressions sometimes, like for example here, "customer service" in the metro, which is literally "operational supervision" in Portuguese.
I'll look for other examples in the course of my stay here. Stay tuned :)
... and there was a small 'gathering' for Mario's birthday in the lab, for which the photo ('smile').
Rental bicycles
There's this thing called a bicycle. As I had written just after my arrival here, I was planning to get a bicycle, but as many metropolitan cities around the world, São Paulo is not a very safe place to leave a bicycle just somewhere. Anyway, whether the local government thought about the same thing or not, they introduced rental bicycles, just as in many cities around the world (e.g. Lyon, Geneva, Wuhan etc). Essentially you can find a bike station like this everywhere in São Paulo. The great thing here is that if you download the application, you can use a bicycle for free for one hour. After that, you give it back to one of the bike stations, in which case you have to wait for 15 minutes before you can take a bicycle again, or you pay 5 reais per hour. Now, I can cycle from Faria Lima to Panamerica square, making my way from Roberto's apartment to the lab really short.
Unfortunately they did not make a bike station inside the campus, probably because they did not want the students to use this system to get to the campus, or maybe they didn't want to the people to use the campus as a huge parking.
Again unfortunately, São Paulo is clearly not a city made for cyclists. The fact that riding a bicycle itself is an adventure will not change, though taking a bus as well is almost an adventure :)
Hélio and Rodízio
Looking at the title of this article, at least half of you (non-Brazilians) must have thought "well, who is Hélio and who is Rodízio?".
Before coming to Brazil, I had a very nice friend who had lived in Brazil for quite a long time. I once asked her what I must eat in Brazil. She said "you must go to a Rodízio!" Another day, I met a Brazilian girl, who also told me that a Rodízio would be a must. Hm, ok. Sounds like a very important place.
When I asked Roberto, if we can go there together, he said: "Ok maybe we can go there with Hélio". So this great guy, Hélio Goldenstein, who is on the photo and looks like KFC's logo, is our beloved boss of the laboratory. Since I work essentially with Roberto, I do not have so much to do with him in the professional sphere, but whenever Roberto and I need help, he helps us out a lot. Anyway, the good atmosphere maintained at the lab is can be largely traced back to his personality.
So what is this Rodízio in the end? You can maybe simply read this Wikipedia article but essentially it is an all-you-can-eat restaurant with different themes, like BBQ or Japanese food etc. In our case, it was BBQ and as you can see on the photos, there are waiters walking around in the restaurant, offering speared grilled meat. If you want to take it, you just have to tell it to the waiter and he will slice the meat (of noteworthy quality) as much as you want. At least one waiter would pass every 3rd minute. You may start to feel sorry to say no after a while.
So Hélio, his wife, Roberto and I went there together. Actually I'm a renowned big eater in Lyon (when I have to. Otherwise I usually don't eat so much), but Roberto could eat at least as much as I did. And probably Hélio ate the most. This great boss was also the maestro of Rodízio.
Japan festival
There's this cool guy, Lucas, who sits next to me in the lab, who's been studying Japanese for quite a while, who wanted to go to the festival do Japão. I don't know if I talked about it but here in Brazil people love Japan, which is a strange feeling because I don't. But still it's a nice thing that I'm so warm-heartedly welcomed everywhere.
The festival did not take place in Liberdade, which I talked about at the beginning (v.s.), probably because they needed a large space to put everything inside. There were shuttle buses between the expo and the nearest metro station, but when I arrived there, there was a queue of hundreds of people, besides, it was raining...
There was a little more than one km up to the expo and after a ride of more than 30 minutes in the bus, I finally arrived there. Lucas and the others had apparently just arrived.
In this enormous dome, we strayed to a stand of Rakuten, which sold Pão de Queijos and Nescafés.
Maybe I have already talked about it but here in Brazil, it is not exactly like in France or Germany, where people try to reproduce the Japanese culture, but here it is more like they try to show what they have developed since the first Japanese arrived in Brazil. Therefore, you can find things like this, Sakepirinha, which is a Caipirinha with sake, which itself is a kind of cocktail with Cachaça (I also had a Capirinha yesterday in the Rodízio restaurant. The one I had was like Mojito, which also makes sense because Mojito is made of rum. Both rum and cachaça are made of sugar cane).
And here's Lucas with his girlfriend, with a kakigori in the hand. Lucas's surname is by the way "Nishikawa", just as Arthur. And there's apparently another Nishikawa in the institute. I'm Japanese and lived in Japan for quite a while. Nevertheless, they are the first Nishikawas that I saw in my life. Just as the Japanese culture itself is somewhat skewed, the surnames that appear in this country are also somewhat a little bit different. But since they usually come from the western part of Japan, it's maybe not that weird that the surnames appear unfamiliar to me (I'm from Tokyo).
I'll put further stuff in the Japanese version of my blog simply because it's strange to explain what is interesting here :)
Cooking at Roberto's place
I love cooking, even though actually I'm not quite fond of eating. Often I cook while I'm actually not hungry because I just wanted to cook. So on other pages you can almost never find anything about what I ate, though here in Brazil I'm writing a lot about it since it is apparently so important in the Brazilian culture.
However, Roberto was someone who doesn't cook at all at home, which is not quite a problem for him because we can eat on the campus on the weekdays and on weekends he goes back to Minas or otherwise still you can find a lot of places to eat in São Paulo. But Sukiya underneath the apartment for example has this strange chemical smooth taste that you can also see in cheap Asian restaurants in Europe (just as Sukiya is also an Asian restaurant). Anyway as a result, there was no cooking stuff in Roberto's apartment, I thought, but it turned out that he had one pot. GREAT.
I went to the supermarket and bought olive oil, ginger, garlic, onions, carrots, green peppers, a can of corn and beans, spaghetti, tomato concentrate, cheddar cheese and rosemary. Almost all I looked for could be found, except for thyme or parsley. Instead, I could find dry rosemary, fresh mint and coriander for herbs. According to Oxford dictionary coriander comes from the Mediterranean but it is used everywhere in Brazil. Well, since I wanted to make spaghetti with tomato sauce, I took rosemary, which I usually use more for baked stuff. Otherwise even if you are in a very small supermarket, you can find stuff from all over the world. And regardless of what you buy, people still think you are Brazilian.
There was a gas stove at Roberto's place but the fire was much weaker than in Japan. But I think as long as I make only European dishes, it'll be fine I guess.
It was like a wonder that I had to eat instant noodles last week and now I'm choosing between thyme or rosemary for the seasoning. I'm looking forward to what I can do with the myriad vegetables and spices here in São Paulo.
July 26, Paranapiacaba
There's this brilliant guy Arthur, who appears in good alternation with Roberto on this blog, too, whom I went to a nearby city called Paranapiacaba with, because there was a winter festival of music.
This city is also very famous for hosting the oldest railway station of Brazil (apparently still in use today).
This photo is by the way the railway station. The tower is supposed to be comparable with the Big Ben.
In my hometown, I used to use the Odakyu line, which starts at the famous Shinjuku station, from which platform you can directly see the next station Minami-Shinjuku station. It costs 130 JPY, which is approximately equivalent to 3.5 BRL (or 1.05 USD).
So, the distance we did today was more than 61 from my metro station in SP, Faria Lima. How much do you think it cost? The answer is 3.5 BRL. I was almost sorry when I arrived at the railway station, (by the way, it's not exactly the same station as the one on the photo above, because it's allegedly a different line).
I don't know why but in this city there were dogs everywhere. I have never seen stray dogs in Japan or Europe. Is there a particular reason that there are so many of them in this city? (And a couple of days ago there was an article on uol.com.br stating that there are not enough vaccinations in Brazil this year for rabies. I'm wondering if these dogs are still okay).
Even though this historical railway station is monumental, the city itself was actually more like a small hamlet, but it had a sort of nice order inside, with some signs written in Old Portuguese (e.g. "Sahida (=exit)" instead of "Saída" in modern Portuguese). There were many people around, but I think they were also enjoying the atmosphere of the village, too.
There was one big problem today, temperature. It dropped to around 10 degrees celcius in the evening. Now, what do you think would happen in Brazil if the temperature goes down to 10 degrees? First, the Colombians who came with us to the city went back home, without even really participating in the music festival. Then from the remaining people, half of them Brazilian the other half from other Latin American countries, pretty much nobody wanted to stay outside for the concerts. So we had to look for a restaurant.
At least we could get to one of the last concerts in time. The Brazilian music is somewhat very different from the music of other Latin American countries, for which I was also looking forward to coming to Brazil.
On the way back home, Daniel's girlfriend (the one who appeared with sun glasses above) did not want us to sleep on the train, because she was "afraid of people". As I come from a country where pretty much everyone in the subway sleeps, it was particularly weird for me not to be allowed to sleep.
If you are non-Brazilian, by now you certainly don't know the name of the city we visited anymore :)
Do you like Brazil?
Every now and then here in Brazil, I bump into the question "Do you like Brazil?", which itself is an innocent question, and I also replied to it innocently, though it turned out that the meaning differed between Brazilians and me.
Just after my arrival in Brazil, Roberto and I talked about the violence in Brazil. It was probably very important for me to know where I should pay attention to my surroundings or where I might get involved in a problem. I carefully listened to him. At the end of the conversation, he said
"I'm sorry for that. I'm ashamed of the violence here in Brazil."
I was wondering "Are you the person who's violent?". Certainly not, but he feels apparently responsible for the crimes of other people.
Couple of days later, I had a conversation with someone else. We were talking about the Japanese culture or technology or something similar. Anyway he said to me:
"Japan provides the world with high technology and reliable electronic appliances. You must be very proud of that."
Interesting. Japan certainly provides the world with a lot of things. And it's my home country. But I am for sure not one of those people doing that good job. Hence, there's nothing for me to be proud of.
Here in Brazil, there's what they call an underdog syndrome, a term which I did not even know, meaning in particular that elsewhere is always better. It does not appear to be a problem to me, but this essentially states at the same time, that they feel the inferiority of themselves, which for me is a completely different subject.
In the end, the question "do you like Brazil?", which I just thought would mean something like "are you enjoying your life here now?", for them means something like "do you like us?"
Certainly there are good things and bad things in Brazil, violence for example among bad things. And I agree that this problem has to be solved, but not because your pride is in question, but simply there is a problem from a very practical point of view.
Now I just wonder, whether it is not hard for them to get along with the burden that they put on their shoulders themselves. Hopefully I won't give a wrong answer by saying "I don't like it" without any intention to say "I don't like you"...
All this being said, I'm anyway enjoying my life here. I just simply say "I like Brazil a lot" in this sense. :)
July 29. Do you like rocks?
Today at 11:30am, the daily routine started:
Roberto: "Hey, where do you guys want to go for lunch?"
Ana: "Physics (department)?"
Viviam: "No, I had a nightmare last time"
Lucas: "but the food at ..."
Of course the canteens are the same everyday. What changes is the people's mood and here it is obviously very important to do this conversation everyday.
20 minutes later, long after I gave up the hope to follow their conversation, we (=they) decided to go to one of the canteens by car.
On the car, with me in the middle, others explained to me every now and then what can be seen on the campus
"Here behind this building, you can find a very tasty whatsoever1. Oh do you know whatsoever2? It's a very good Brazilian fruit. You can buy it here in this building." (whatsoeveri, i=1,2 to be replaced by the names of the food they were talking about).
So, there's why I don't understand Portuguese so much at the lab: here, about 80% of the conversation turns around topics about food. And my vocabulary is way too limited to come up with the huge interest of the people here.
The lunch time is a great occasion to listen to their Portuguese. Lucas was talking about a shop for pastel rodízio (both pastel and rodízio have already appeared above). Just a moment later:
Roberto: "... and have you ever seen a Capybara, too, Sam?"
??? Capybara? What's that?
Roberto: "Capybara is a giant rat that only lives here in Brazil."
Well, ok. A capybara may be a rat, but what happened to the pastel rodizio?
Roberto: "No, we are not talking about pastel anymore. Now we are talking about Capybara."
Ok, apparently the subject had changed within microseconds without me quite following the flow. Now it's about capybaras.
Lucas: "but you don't eat insects in Japan, right?"
??? no, but what happened to the capybara?
Lucas: "well now we are talking about insects ('smile')"
Again, there was apparently another supersonic subject alternation I wasn't quite aware of.
Back at the lab, there was Eduard on skype, who by the way sometimes also appears here in person (who's still doing his study in good old Germany). Actually Viviam and I were planning to go to cinema this evening, but I screwed it up completely (I'm sorry...).
There was Lucas who wanted to comfort me, as I had nothing to do anymore.
Lucas: "Well, there are other interesting things here. Do you like rocks?"
Rocks??? Rock music you mean?
Lucas: "No, rocks, like stones."
Hm, it's a weird way to start a conversation... Actually what he wanted to say was that there's a museum of rocks on the campus, along with other interesting museums. And it is not particularly weird to start a conversation like this.
And this was another factor that apparently makes it difficult to understand what they are actually talking about. Conversations here in Brazil are like Schrödinger's cat. In a conversation, when you articulate the first word, you never know whether they are (still) talking about the same thing or not. I'm not quite sure if I'd be able to catch up these high processing topic evolution by the end of my stay.
Priority seats in bus
If you come to Brazil, people will certainly recommend you to eat sweet stuff, as everywhere around the world. However, in other countries, the question is usually whether it's good or bad, but here in Brazil, it's whether very sweet, or "Oh Lord! it's sweeeeet!!!".
Whether it's related to that or not, there's a priority seat in the bus for obese people (cf. photo). I checked it out in the Internet. According to an article on wikipedia, Brazil as whole is not a very obese country, but according to an article of Brazilian society of endocrinology and metabology (?), São Paulo's obesity rate lies at 15.5%, which is higher than in Germany or France (12.4% & 9.4% resp. cf. wikipedia). Japan 3.2%... what's wrong in this country?
July 31st. 50th anniversary of Hélio/Tschiptschin
In 1965, at the time reportedly the current building did not even exist, our beloved professors Hélio Goldenstein and André Tschiptschin met each other at USP. 50 years went on, they still work together, in clear contrast to the Spanish guy and I in the same office in Lyon starting to detest each other on the very first day at INSA. What an honour that I could attend to such a nice celebration.
It is forbidden in France to drink at the lab. Still, since it's a stupid rule whenever there's something to celebrate, we drink every now and then there, but then we close the door to prevent an unnecessary misunderstanding. Here in Brazil, who cares. While there was still a course or something going on inside the building, we started a BBQ, with rock band playing live music.
By the way, Lucas and I are starting to talk in Portuguese and Japanese now, because I decided to force him to do so. Anyway I'm starting to talk to the people in Portuguese now so I'm looking forward to the progress from next week on :)
August 2, Swimming pool with Hélio
Hélio: "Hey Sam! Do you like swimming?"
There was Prof. Kawano who works here at USP, who speaks also excellent Japanese, who invited me to a swimming pool in the downtown where they have a training once a week, every Sunday. Hélio is one of the members and I got the message via him. Well, why not?
Sunday, Aug. 2, Hélio, who appears with a different car every time, drove me to the swimming pool. What a nice professor. Whenever I wonder why he stopped driving with no particular reason, I end up finding out that he did not just stopped driving, but actually he parked.
The swimming pool belonged to the Lebanese society, initiated by Lebanese immigrants of a century ago. Now, as the corrosion in the building is a serious problem, they hired the researchers (read: students at USP), to suggest a renovation programme, for which the swimming team of USP can use it for free in winter.
Hélio was saying "we all cannot swim very well". As it turned out, I could not even do the same exercise with them. Hélio, by the way, with the same smile as always, completed all the exercise, relaxed.
This was a group of professors at USP. Just as in many countries around the world the most intelligent people have other activities separately. Together with the fact that Hélio likes to go to bookstores, this is maybe the quality of a person who can become a professor.
Now, anyway, I'm having the cross fit twice a week and swimming once a week, in addition to my daily jogging in the morning. Let's see what happens after the summer :)
Aug. 8, Rio de Janeiro
Roberto: "Hey Sam! Would you mind leaving the apartment on the weekend of Aug. 8?"
Well, no but why?
Roberto: "Aug. 9 is the Father's Day."
Apparently it's an important day here. Anyway, as I also wanted to go to Rio de Janeiro, I decided to get there this weekend.
Probably I didn't talk about but Roberto is a father, probably even a great one. His son is 13 years old, and looks like Roberto (well, why not).
Here, by the way, there are couple of things that I do (not do) that must be appearing weird to locals here. For example, as it is not possible to drink tap water directly here, I take empty plastic bottles to the lab, where there's a water dispenser (tap water + filter). I just don't buy bottled water because I don't want to waste plastic, not because I'm poor.
And for similar reasons I avoid flights as much as possible. As there's no functioning railway system in Brazil, I decided to go there by bus. It's also much cheaper but I took it just for environmental reasons. I'm not poor. Don't worry guys...
I took the first class. It looked somewhat nice, but still you cannot have a completely horizontal seat. Night trains as in Europe would be something really nice here.
Just one year to go and Rio will hold the next Olympic games. It's widely unpopular here as the government fails to reach the economical objectives. Even if the preparation for the Olympic games is said to be the worst ever, I hope it won't stay in the current deadlock for a long time...
After a ride of 6 hours that I slept away, I arrived in Rio. (yahoo!) My hostel was in Ipanema, pretty far away from the bus terminal. I was still planning to go up to Ipanema on foot following the coast line (about 14km). Getting out of the terminal, I could tried to go to north, no sidewalk for pedestrians, then to east, no sidewalk either, then to the south, huge dark tunnel...
Ok, maybe it's not a particularly good idea to get into the tunnel or risk my life on the main street with cars rushing in every direction. I decided to ask someone where's the nearest subway station.
Fortunately there were a lot of small shops nearby. I just got into one of them and asked the owner.
"The nearest metro station is there around the corner, but I personally would not dare to get there. It's too dangerous."
Ok this old local guy says it's dangerous, it will very likely to be dangerous. Probably better not to risk too much...
Fortunately, my Portuguese is now as good as I can generally say whatever I need to say, so I could ask the same guy how to get to Ipanema, but I must say, there's still something for the government to do before the Olympic games, because I assume it is sort of impossible to find an English-speaking person in this poor district and the buses going from the terminal to Ipanema stop fairly far away from the bus terminal.
The bus was again an adventure. You are very welcome to this 3D shaking box.
The nature in Rio is impressive. The fact that there's an endless coastline is probably quite known to everyone, but if you look around, you'll certainly notice the vertices around. These hills are so steep that there's even pretty much no plant on the slope. So, anyway it would have been impossible for me to go from the bus terminal to Ipanema on foot.
And as the slopes are really steep, you can find sometimes favelas on the hillside. In São Paulo, I haven't really been able to see favelas directly, but here in Rio, it is kind of possible to observe their life from the city center. As the article for Rio on wikitravel of "Stay safe" starts with "It is important to note that while the following information may panic you and also make you question whether to go or not to Rio, most visitors to the city have a great time with no incidents.", it is probably better not to dare too much in favelas. Anyway, I didn't. And probably I won't.
For me it was almost a cliché to drink coconut on the beach in South America, but it's true. For those unfortunate Europeans and Japanese, who have never seen a real coconut in real life, the fact is, one coconut costs regardless of where you are 5 reais (=1.44 USD) and you get quite a substantial amount of juice out of it. And it's literally delicious. Under the clear blue sky, with temperature around 28 degrees, I was having a great summer vacation, though it's winter here.
Before going to Rio, I thought it might be a good idea to post my trip there on couch surfing, even though I did not have so much hope to find anyone because I know that couch surfing doesn't work very well in Brazil. I got quite a lot of messages from Brazilians. I wrote them back. In the end none of them appeared ('smile').
However, there was one German guy, Rash, travelling around South America and looking for someone to walk around with. Nice! Here, just for info: I speak German (for those who did not know).
There was also a couple of things to see on the beach, for example this sand art. If you think "oh it's beautiful" and take a picture, pay attention to the guys standing around it. They are usually holding a board saying something like "this art is sustained thanks to your cooperation" and ask you for some money. They don't look very professional so I guess they weren't the ones who did that job. Whether it's true or not, they'll be happy if you give them something like 1 real. So don't panic.
Something goes very often wrong with the German flag in this country. Well, who cares :)
In the evening, we went to the part of the city called Lapa with Rash, which is famous for its nightlife (and it's actually also written in the very first line of this wikipedia article). There are pubs but also small stands around. We decided to take a Caipirinha, which I already had at the hostel as a welcome drink after I got back there from the beach. After the first caipirinha, we thought it would be a great idea to have another caipirinha, which, well, wasn't.
This drink contains actually quite a lot of sugar and the booze they use is cachaça, which is essentially rum. So you drink quite a quantity without being aware of it.
I was on the brink of unconsciousness (actually too sleepy to walk back home), wobbling the way to the subway station, which was already closed (it was before midnight though). We took a taxi together and with quite a lot of miracle, I could tell the location of my hotel to the taxi driver and could get into bed in peace. It was almost a wonder that I didn't screw up the night and also nice that the taxi driver didn't try to rip us off.
Next day, not quite sure how I got there, I got up with horrible headache. Still I could get up fairly early in the morning, which actually wasn't that surprising because I went to bed quite early.
After the breakfast, the girls from England whom I shared the same dorm with woke up. One of them asked me what the breakfast was like. I said it was like French breakfast without croissant. She replied:
"Oh, so like with cheese and ham?"
Well, so much for being English and guessing what French breakfast looks like.
There's this thing called Sugarloaf Mountain in Rio, a very famous tourist attraction. Essentially it consists of two hills/mountains and is famous for some reason. I contacted Rash again and we got there together.
There was a cable car but we decided to go to the top of the lower one on foot, which certainly was not an idea that the authorities would have liked, because partially the path was so steep and slippery that there were people falling down.
The infrastructure of the top of the mountain was very good, making the whole stuff somewhat ridiculous, because the nature on the slope was so beautiful, like in the middle of a jungle (which it certainly was, and therefore there were a lot of birds and other strange animals on the way that I unfortunately could not take a picture of, because they move around all the time). But anyway it offers a superb view over entire Rio. It's so nice that you can have so much nature just next to this gigantic city. Rio is by the way also misty but I guess here, it's really because of vapor (in strong contrast to SP).
One of the animals that accompany your exploration is this little ape (better click on the photo otherwise you cannot really see it). It is forbidden to give them food but apparently they are not harmful to humans as there was a girl giving them a banana directly from her hand.
If you think of Rio de Janeiro, you certainly think of the Christ the Redeemer on Corcovado. This was a place that I could not visit this time. It is at 710m above sea level, and there was one guy writing an article about the walking path up to the top of the mountain. However, as you can probably imagine or as you can see in the article, it is a very long way and you must have very good conditions (like, not having hangover for example). The photos by the way you often see from above this statue are made from helicopters, because I saw there was a company on the Sugarloaf Mountain that offered a flight for something like 100 USD per person for 6 or 7 minutes.
There's also a metro system in Rio, though there are only two lines. And just as in Tokyo, there are wagons that are reserved for women in the morning and in the evening, when the trains are filled up. Are there other countries doing the same thing?
In the evening, I was invited to Rash's place (or in the Air BnB where he's stayin), and we had dinner together. On the way there, we went to a supermarket nearby as I didn't want to be invited bringing nothing, just to buy some juice. Here in Brazil, the Bio-boom that could be observed at the end of 90's in Germany and Japan, is gradually also arriving. However, 100% juice is apparently something that people still do not really care about. We could find some, but one litre was around 5 USD. I still paid it and bought two packs of juice, with the hope that it would promote the consumption of natural juice :)
So was my stay in Rio de Janeiro. I took my night bus after the dinner (with great thank to Rash who lent me some money to take a taxi to the bus terminal) and got back to SP. Despite my initial unwillingness to go there, I had a great time in total. Rio is a beautiful city, which has pretty much everything in nature. I'm not particularly looking forward to the Olympic games here, but I'm still looking forward to coming back here one day and hiking in the nature which certainly promises a lot of interesting new discoveries.
Contact lenses
There were essentially two things I forgot to bring to Brazil. One of them is swimming stuff. The other one was the contact lenses. I had just changed my contact lenses before coming to Brazil and they were to be used for one month. At first I thought it would not be a problem wearing them during my entire stay in Brazil, but I started feeling somewhat uncomfortable with them while being in Rio. It is technically impossible in France to buy contact lenses without having a prescription written by a doctor (though in the Internet you just have to click on "I have a prescription" and then you can order it). So I thought it might be the same here in Brazil. So first, I looked up in the Internet. The delivery would take up to 12 days. Well, fine. It means like it would be even faster to ask my flat mates to send them to me from France. Then I looked up shops in SP and found one fairly nearby.
It turned out that it was possible to buy them without a prescription. However, the diameter of the contact lenses I usually use was 8.6mm. Here it was 8.4. The thing is, I normally don't have to choose the diameter because the standard value is 8.6mm in France. I didn't understand why it was different in Brazil. They explained to me:
"In Europe, the people have a different eyes."
Weeeeeell, this explanation sounds quite unrealistic. Well, fine, the diameter should not be a huge issue. Then they said:
"Here in Brazil, it is better to change them every 20 days (instead of 30 as prescribed)."
That's interesting. They say because of the climate here you cannot use the same contact lenses for 30 days. Ok, it might be true. Nice to know that :)
I paid 135 reais for one package, which was equivalent to 35 Euros. I pay usually 20 Euros for one in France. Hm.
Economy of Brazil
Warning: this article is politically motivated. Skip it if you have no interest.
14.25. Do you know what this number means? This is the interest rate of the Brazilian central bank. Just to make sure, in developed countries, anything that is higher than 1% can be considered quite high. And last winter, when Russia announced to raise its interest rate to 17%, I had to sit back for a while to think about what it may be like to live in a country in which the interest rate is 17%. It is something pretty much impossible to figure out. Russia of course was being sanctioned at that time (as it still is today), so even though 17% was an unimaginable number, it may happen. In other words, Brazil is experiencing an interest rate that is nearly as high as a country in economic sanctions of Western countries.
It may appear weird to you that I'm starting off by talking about the interest rate of the central bank, but the point is the inflation of this country, that is around 10% at the moment has not been damped in the last couple of months, even though the economy itself is contracting.
If you are reading my blog from the beginning of my stay in Brazil, you certainly know that I changed my Euro for 1 EUR to 3.5 BRL at the beginning. Now, I get almost 3.9 BRL for 1 Euro. So, if you come from Europe or Japan (probably from the US as well) and if you are the kids of the 90's that have never known what inflation actually is, your mind will be blown away. The prices may change on a daily basis.
And in contrast to the western governments that are relatively stable, here the president, Dilma Rousseff, currently is supported by 7% of the population. I remember the New Year's eve of 1999 when Boris Yeltsin announced his resignation in the television. Dilma Rousseff must be as unpopular as Boris Yeltsin of that time. This can here also be clearly seen everywhere, as for example everyone was honking in the street when she had a visit (?) to São Paulo last week. I first thought they were celebrating something. Well, not quite so :)
So, what is exactly the problem of Brazil? The problem probably is, there's no real problem inside Brazil. If you ask locals here, what the problem is, it's very likely to hear a response like "the president is the problem", without really suggesting what should be done. It's quite the common thing among the countries having economic problems.
Let's see what Brazil excels at: the GDP of Brazil was 2.35 trillion USD in 2014 (cf. World Bank). The total export is 247 billion USD (cf. MIT), making up more than 10% of total GDP. Out of the total export, 21.4% is iron and petroleum. If you are following the latest of the world, you certainly know that the oil price is falling like never before, as US started producing oil and the sanctions on Iran are being lifted. And especially the development of the world factory China is slowing down. Somewhere we must keep in mind that the welfare of the world in the last couple of decades was a great present created by the economic development of China. As it is slowing down, which is of great importance for Brazil as China accounts for 17% of the total export of this country, the struggle of the export of this sector, namely raw materials, is fairly understandable. Now, even more complicated as China just announced the devaluation of the yuan.
In the end, what we can say is that it does not really matter who is in office at the moment, this game shall anyway be lost. If there's something significant and realistic that can be done, it must be to enhance the internal productivity of the country. But in order to raise the productivity of a country like Brazil where the public education system is not quite functioning, they need to help the bottom of the society. Thus, they need a socialist government, which actually is in charge at the moment. So anyway there's not so much to do.
From another point of view, the Brazilian politics is not nearly as imperfect as Brazilians believe. Among the third world countries I've visited so far, Brazil has by far the most promising political situation.
And for sure, the media don't like this conclusion. Fortunately for them, there has been a political scandal going on since summer 2014. Why not blaming the president for all the other problems?
So, whether they read between the lines, whether they change the government, etc. are open questions that are very likely to be answered in the near future. I have my own opinion about it but maybe I'll write it at the end of this stay, because I don't want to make this already very subjective and personal article even more subjective. :)
Aug. 14, basketball and concert
There's this brilliant guy, Lucas, who likes basketball (because it totally ROCKS!), and asked me if I'd also be interested to get there. The great thing about the campus here at USP is there's a sport compound, that is open for all the students. Apparently even for visitors, as I could also get in just with a short registration.
Hopefully we'll continue to play basketball until the end of my stay. And now along with crossfit (twice a week) and swimming (once a week), I'm playing basketball. All for free. Viva Brazil.
Arthur likes music. He asked me if I was interested in classical music. As the ticket was cheaper on Friday evening and especially for students (around 30 reals), we decided to go to a concert. The highlight was Beethoven's 7th symphony.
Among those reading this article, there may be a couple of people thinking about doing the same thing here in SP. If you want to get there by subway, just make sure that you don't speak English loudly. The district is not quite dangerous but not the one SP would be particularly proud of, either.
The concert was great (though I skip the rest because generally I find articles/FB-posts describing food/music senseless), but more importantly there were two discoveries: here in Brazil, the standing ovation after a concert is customary (I've actually already seen it when I went to an enigmatic concert at the beginning of my stay here). Another thing is there were quite a lot of people directly leaving the hall after the concert (which sounds contradictory to the standing ovation), which makes the applause time much shorter. I must say, this is a GREAT thing because in Europe (and in Japan) the conductor has to leave and come back to the stage several times and the audience has to keep the handclapping, sort of custom probably no one is particularly fond of.
Pizza announced
I'm a person who travels around the world by living there. I think it is a great way to discern things that normal travelers do not see. Here's a good example, there are two things people say in EVERY country. First thing:
"My language has a lot of different ways to express one thing (or similar things)."
Now, if your native language is English, you must be thinking that English has a lot of expressions that describe the same/similar things. E.g. now as I'm looking down on the street, I can think about other words for this word, street like road, way, path, lane, avenue, alley, boulevard etc. And if your native language is not English, you must be thinking that your language has even more expressions. And if you are bilingual, you probably start thinking that one language has more expressions and 30 seconds later you change your mind.
The other one the people in every country say is:
"The food in my country is really good."
This is pretty much literally what they say (even Germans dare to say that! woo hoo!!). And I was not particularly surprised when I heard it several times in Brazil. After all, I always interpret it as "there are culinary specialities you should try". In this sense, whenever people ask me whether I like the Brazilian food, I can just simply say yes because there are honestly good things around here.
However, recently, I heard a much more radical phrase:
"Brazilian students often get a problem with the food abroad, because the food in other countries is not as good as in Brazil."
Well, ok. It was actually the first time to hear something like this in my life, but I heard it just once and from one person. So I cannot really figure out what the entire population thinks about it.
Ok then what is so good here in Brazil? I got a couple of answers, but by far the most striking was this: Pizza.
Hey, listen folks, you are giving away two mind blowing secrets of the world: First, the best pizza in the world is actually made in Brazil, 9000km away from Italy, and second, actually the pizza in Italy is too bad to eat.
In fact, this is also something people say in every country in Europe, like for example in France or in Germany. By the way, I haven't put my personal opinion anywhere in this article so far, but here I make an exception and tell you that the best pizza I have eaten so far was, surprisingly enough, in Northeim, Germany. Though at the same time, I must say I haven't really been anywhere to eat a very good pizza in Italy.
Did you know that I made pizza everywhere when I traveled from France to Japan by bicycle three years ago? This was I did for the hospitality of the people. So if there's such a mind-blowing pizza, I'm also interested a lot.
There's Prof. Kawano, whom I go to the swimming pool every Sunday with, who is also one of those who supported the idea that the Brazilian pizza is the best in the world. So he asked me if I want to try it out. Nice.
So next week, I'm gonna go to eat the best pizza in the world. Maybe I am going to be the witness of the order of the world of coming 20 years.
Mosquitos
eeeeeeeeeeeeeeeeeeeeeeeeeeeeeeeeeeeen
I'm not a person who has problems with insects. I don't quite want cockroaches or spiders to get into my room, but if it happens, well, why not.
However, here in Brazil, there's this particular monster that I have never been able to cope with: mosquito.
And believe me, here in Brazil, in the middle of winter, there are a lot of them. A good thing about the mosquitos here is that whenever you find them they are just daydreaming like a teenage girl so it's really easy to smash them. However, the bad thing is, there's always one more mosquito in the room than you think. And I don't understand how hungry they can be.
At first I tried to turn on the ventilator in Roberto's room, with the hope to make it impossible for them to fly, just to find out that they simply launch a unilateral bombardment from the non-ventilated side.
I went to a pharmacy and got a repellent, which is called repelente in Portuguese. There's actually also something like this wrist ring, which it says works for 5 days. It smells horribly wrong but at least it'd be easier for you to sleep I guess. And especially, the mosquitos here in Brazil may have dengue fever. So better grab it and cough a little bit in the morning...
Jogging with Lucas
Last weekend:
Sam: "Hey Lucas! You know what we're gonna do from next Monday?"
Lucas: "No. What?"
Sam: "We're gonna run together."
And so it started. Just as this beginning was mind boggling, we found out very quickly that the distance we put, approx. 2km, between the lab and the canteen, was too much.
Otherwise quite talkative, the space around Lucas was reduced to a memento mori. Not to mention he didn't talk with me for the rest of the day :)
Next day, in spite of the hardship of the previous day, we still continued, just as the following day again. In total, we made it for three days in a row. And he's (at least for now) motivated to continue it next week.
What's more, he declared: "I'm gonna learn Japanese for 6h a day until you leave."
Wow that's brilliant. Well, whether he's gonna really do it or not, every now and then, I see a little bit of difference between the way people learn foreign languages in different countries, which is to say, between Brazil and Germany for example (with Japan being pretty much the same as Brazil). NB: I was in Germany, at the university of Göttingen, for quite a while.
Studying a foreign language in many countries is just like studying physics, math or literature. You sit at the desk and look at the conjugation table or other grammatical stuff. And concerning the language proficiency, there's only "you speak the language" or "yon don't".
However, in Germany people think you just need a minimum knowledge of grammar in order to say something, but if you for example start learning something, at this point, you can already say the things you've learned. It means in particular, that you can already start to talk. At the university of Göttingen, this minimum language level is reached in a semester, if it's a normal course, or in three weeks, if it's an intensive course. After that, you just start talking, reading or whatever you need.
So in this sense, there's no notion of "learning a language" after that anymore. You just "use" it and hopefully you are able to refine it. For this reason, you can find a lot of Germans who can talk, but their grammar is just as miserable up to impossible, but still you can understand them, which for me is the main thing in language acquisition.
I myself had an extreme case in Iran on my bicycle trip to Japan. Of course I didn't speak Persian before. What I did was to learn all the situational phrases by heart and I talked with the people there. Essentially, I didn't even know what I was saying. So a phrase for me was a sequence of randomly generated vowels and consonants. It worked, and I called it speaking Persian.
Or here's another example: at the beginning in the supermarkets here in Brazil, whenever the cashier asked something, I just always simply said "no", because I know that it must be something like "do you have a point card?" or "do you need a plastic bag?" or something like that. And it always worked (though one time there was "are you sure?" which I also answered with no, leading to a very sticky situation between the cashier and me). So essentially, you don't have to say "I don't speak Portuguese" every time. You just simply say "no" in this situation and you call it a conversation.
So in my opinion, if you want to speak a language, just speak it. Whether what you are saying is non sense or not, you'll eventually be able to talk with the people. And this is probably also the spirit that enabled me to speak Portuguese now :)
Aug. 21 Demonstration in Brazil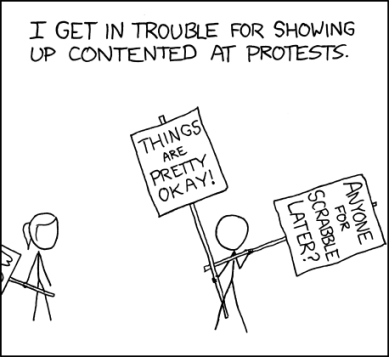 Brazil loves culture. And its biggest theatre is called politics.
And if you are following this meanwhile monstrously long blog, you must have seen that there's a very strong anti-government movement at the moment. In particular, the president, Dilma Rousseff is about to be impeached. The great thing about this is that there's no counter proposal, just as in many countries at the moment. So not so nice to impeach the government. For this very simple reason, there are also quite a few of people against the impeachment.
The first demonstration, which was one of these groups, happened just after the swimming session in the city center, which I did not see because I didn't want to be unable to go back home. But you can find a lot of selfies in the Internet, not that I can be bothered to look for any :)
At least I could see the preparation for the demonstration, that is to say, people selling stuff for the demonstration. This was just a part of the street and the rest of it looked pretty much the same. There were also a couple of buses from different states of Brazil, just to participate in the demonstration.
A couple of days later, I was cycling back home, when I saw a huge traffic jam. I could also hear something similar to the intro music of terminator. Actually there was another demonstration and this one must have been the other side (not that I was interested to know which side it was). Fortunately it was right in front of Roberto's apartment. Roberto's apartment being in the 7th floor I could have a 1st class seat for this theatre.
As you can see here on the photo, this tank was marching through the street, with ear bursting megaphones prophesying the apocalyptic end of the world.
As it was a Thursday, I had to get to the crossfit session. I got out of the apartment. It was long after that crowd had left the place. And I saw the situation of the street. And this was just a part of it.
Following day, I saw the street was completely cleared up, as if nothing had happened the previous day.
Well, at least it must have had an instantaneous reduction of unemployment rate. And everyone was apparently sort of enjoying the theater. Why not.
Museum of Portuguese language
Just as I described recently, I also think that the Japanese language has a lot of expressions. However, there's a huge shortcoming: you might have heard of this Japanese word "kawaii". It means something like cute, pretty, lovely, sweet etc. This is a very common word to describe a baby or a child, but it's actually so common, that there is even no other word to describe a baby (though apparently Japanese people are not quite aware of this problem).
I once saw three girls standing around a woman who was holding a baby a couple of years ago in Japan. The first girl said the baby was "kawaii". And just as the social norms often oblige, the second girl also wanted to say something, well, just something, but something different: "oh, he/she is so ... well, how do I say that?". So whatever she was thinking, it would not be possible for her to say anything else than "kawaii" in Japanese, and as she was deprived of it, she would have simply dug further into her frustration.
Essentially, the meaning of "kawaii" would vary according to what would be appropriate in the moment it's used. And you may wonder, why people ever bother to converse if there's only "kawaii" and nothing else. Well, maybe it would be too demanding to expect the human communication to function logically.
There are couple of museums here in São Paulo. Not being quite sure which one to visit, I picked up some of them and asked the people whether these museums are good or not. --- and there comes the huge problem, that there's this Portuguese magic expression "bem legal", which means something like "pretty good", though in reality, if you hear someone saying it, you can pretty much expect that you are not even a little bit better informed after hearing it. In fact, it's such a magical word that whenever you are asked what you think of something and you don't understand the question or have no idea what to say, you just spell this joker expression and the world around you will be saved.
And this is exactly what you hear for most of the museums if you ask Brazilians for their opinion. In extreme cases, it may happen that you still hear "bem legal" even though the person has never visited the museums in question.
Well, since at least Arthur had never visited the Portuguese language museum, which is according to them the only one language museum in the world, we decided to go there, together with Pinacoteca which is also a museum just next to the Portuguese language museum.
These museums are next to the Luz station, one of the landmarks of São Paulo, which by the way is surrounded by an area you may not stray into in the night.
Whatever the security around the Luz station is like, there was a nice park next to it. It doesn't matter how often I see the nature here in Brazil, it is always impressive.
Pinacoteca, even though I don't know what it means, was an art museum with a wide collection of Brazilian paintings. The entry costs anyway almost nothing but it turned out it was for free on Saturdays (which it happened to be). When we got there, they were having an exposition of British paintings.
Actually there was a French guy from the crossfit who said Brazilians don't know how to make a good museum. So even though it may or may not be "bem legal", my expectation was not very high. However, the museum was quite well organized and I also liked the way the paintings were presented (though I'm not particularly an art guy so don't rely on my opinion).
Well, there was just one problem: the walls of the exposition rooms were all white. The paintings were fairly dark (welcome to Great Britain). The rooms were well lit and many paintings had a glass cover. Can you imagine what would happen? Yes, you see yourself with white background. Hm.
Otherwise, as I said, I really liked the place. Maybe I'm going back there next weekend.
In the afternoon we went to the Portuguese language museum. What do you think a language museum would look like? I thought it would a place to explain how Portuguese came about or maybe how Portuguese correctly works? At the same time, I thought this would be also tasteless since you can find all this stuff in the Internet now.
My assumption was not entirely wrong, but it was anyway not the main theme of the museum: it was more like an art museum, where paintings are replaced by works created with the Portuguese language, like poems for example. There was also a movie that combined visual and acoustic work with the Portuguese language, creating a sort of surreal space.
I was happy to see that this museum was something that also should be a museum and should not be replaced by simple chunk of information in the Internet. After all, a space of artistic work cannot be presented on small computer screens.
All this being said, however, I must admit I did not understand so much in the Portuguese language museum, which is normal as my Portuguese language level is simply not as high as I could enjoy the sonority of subtle expressions or difference in changing certain components in a sentence. But except for the fact that I admitted here in my blog that I didn't understand so much there, I don't have to feel ashamed or sorry for that, because if someone asks me what I thought of the museum, I know how to answer: bem legal.
Aug. 27, customer service
You might have seen that I use the rental bicycles in SP to go to the lab. And it's supposed to be for free, which is not quite correct sometimes. Every now and then, when I put back the bicycle, it is simply not recognized, even though the bicycle itself is well locked (I always verify that the bicycle is locked). I'm not particularly surprised that this kind of glitch happens and not concerned either because in the end it's not so much money.
However, when I wanted to take a bicycle at the metro station in Faria Lima (at Roberto's apartment) yesterday to go to the cross fit training, my app still said my bicycle was in use. I quickly went back to the bicycle station where I put my bike, verified everything was in order and checked the app again. Still the same.
I went back home, with little hope to go to the training. Still I asked Roberto to call the customer service. It was around 8pm. No way that anyone would take the phone.
Dialled the number, ringing, maybe two times. Then someone took the phone. I was like "Whaaaaat?"
So, not only the other side of the phone responded, she also sent someone to the bike station to check that the bikes are in order, and she gave me a new account while waiting. In the end, I could go to the training and saw afterwards that my actual account was again available.
Here in this situation, there were couple of people engaged: the customer service and the technician(s) who went to the bike station, which in France would be unimaginable.
Let's look at what the labor situation is like in both France and Brazil: In France, the minimum salary is 9.61 Euros per hour, which makes 1537.60 Euros (6150.40 BRL) if a person works for 8h a day and 20 days a month. In Brazil, on the other hand, it's 788 BRL, which is 197 Euros. I have no idea how to live with 788 reais per month in this expensive city São Paulo, but for companies it means at least it is very easy to employ people.
So if you go to a supermarket, you can actually also see a lot of people not quite working here in Brazil, which is not really a problem for me as a customer because I can still get the service I expect here.
Anyway, I still don't know why the bicycle is sometimes not recognized when I put it back, and when it's not recognized, why it is often recognized eventually, but I think it is smarter not to ponder over problems which probably don't have an answer, but call simply the customer service that I can reach within 5s.
Aug. 28, best pizza in the world?
As it was announced a couple of days ago, Prof. Kawano, Hélio and me (with their wives) went to the city center to eat the "best" pizza of the world.
Friday night, the city of São Paulo gets filled up with cars. And here's this brilliant driver, Hélio, who did always one of these things at a time: 1. driving, 2. talking, 3. using his cellphone. And never two things at the same time, which, in retrospect, I should have been aware of, as by talking to him while he was using his phone, I apparently erased all his current memory of what he was doing with the phone. And all of this problem made a peculiar unfilled space in front of his car.
And the number of "oops" moments in relation with other cars was just mind blowing. Speaking of the road safety, he told me:
"Don't worry, this car is very solid."
Oh really :) I was starting to seriously wonder whether we would ever make it to the pizza restaurant.
And we did, to my great surprise.
It's pretty rare in Europe that there's a literal pizza "restaurant", because pizzas are often almost treated as fast food, but the place we visited was looked like a prestigious restaurant, even though what we were eating was just pizza :)
There's always a certain number of bright people around the world. Prof. Kawano and Hélio are pretty much the ones. And it's probably their brightness that makes them interested in many things. I'm now talking about this because Prof. Kawano suggested to go to a farm near SP, which was constructed by Japanese immigrants. The weird thing is that this farm, or maybe more like a village, doesn't have money. Neither television nor Internet. The people share everything. Okay, this being said, I didn't really understand the concept either. The idea itself may be underpinned by some kind of religion. Anyway, since there is allegedly ONE telephone there, the wife of Prof. Kawano called them and made an appointment for next week. Hélio and his wife were apparently also interested.
So, in the end, we were now to go to a secret farm full of mystery and uncertainty over the next week. If we don't come back, you know what it means... (though the exact cause may not be known to you, as we are going there by --- car...)
Eco life in Brazil
There's a country like China, where the government starts to say something and everything changes. Sustainable life is one of those things and it is a huge topic now in China (which of course is a good thing). Brazil is obviously not the same case. Here, it's more like the government says something and the people do the contrary. For this reason I was surprised that both the government and the people are interested in sustainable life here, too. So if you go to a supermarket, you can find a lot of ecological stuff and the energy mainly comes from renewable energy.
I took these photos on the eco-life fare that is taking place in SP over the weekend.
Interestingly, even though they are interested, it is apparently a different question whether they really do something, like turning off the light when it's not used or coming to the institute by car etc. (and the ecological stuff in the supermarket is not nearly as well sold as other stuff)
But I still think the most important thing is to start to thing about it, because if you dig into the core of all the ecological problems, our existence itself would come into question. I think it is still good here in Brazil that people try to think what they may be able to do for that.
Aug. 29, run the night
Beginning of 2004, there was a day that I thought it might be nice to jog everyday, with no particular thought when to stop doing it. Now, it's been 11 years and I'm still jogging everyday.
There's a very weird side in my personality (if not to speak of a "glitch"), that whenever I start doing something, I just don't stop, until there's a particular reason to stop. Like for example in 2011, there was a friend of mine in Lyon who wanted to start learning Russian, but he did not want to start alone. I was to be true really not so motivated but there was no reason not to do it. We started together. 2 months later, he gave up. And I continued (so nuts that I needed it in the Soviet union).
My life is therefore a great heap of things that I failed to abandon so far. And here in SP, I started to do crossfit, swimming and pseudo-journalism stuff (available in Japanese). But it would be still nice to find some reason not to give up my old traditions.
There's this brilliant colleague of mine, Ana, who spoke of an event, Run the night SP 21K. It was essentially a half marathon going through the campus of USP. Well, since I jog everyday (with no purpose), why not 21k?
A day before, Ana and I went to a shopping mall nearby to get the marathon kit (with T-shirt, bib and all other useless stuff). By the way, in Portuguese, when they say "kit", they actually say "kitsch", which led to a huge confusion, as I repeatedly asked why they wanted to distribute kitsch.
The day arrived. No idea what I should eat (as in contrast to my physical prowess, I have no knowledge of its theory). The event was to take place at 8pm. I made my dinner at 5:30. And if you know me well, you know that I cook too much (cf. cooking). Well, still enough time to digest.
At 6pm, I opened the website to check out the meeting point on the campus. There, it turned out that it was actually to start at 7pm. No idea how often I've made the same mistake in my life.
Anyway, I still had enough time to get there, even if not enough time to digest. I arrived a couple of minutes before 7pm and the people around me were just standing around. Maybe the running itself would start a little bit later?
I sat around for a couple of minutes (to digest the dinner). Then I wanted to look for a toilet, when I noticed, that the people around me did not have the same bib as I. In this moment I remembered that this semi-marathon may be divided into 2 or 4 people, so these were the people waiting for their team mates to arrive.
Fortunately, it was not too late yet. The semi-marathon itself had already started but I could sneak into the last group to go through the gate. I did pretty much the same thing recently in Bamberg (semi marathon as well), which was a very bad decision because I had to overtake 2000 people there. And just as in Bamberg, the density of slow people at the beginning was just overwhelming. If this was Shinjuku station, I just say "suimasen" and it has at least 3000 times as much effect as "open sesame". But here in Brazil, of course there's no one interested in giving space away. I had to perform as much lateral movements as forward.
I also took my iPod there, the one I used when I cycled from Lyon to Japan, though I didn't remember what I had put inside, except for the fact that I did not want to put energetic songs because I was simply always too high on the bicycle. This time, I would have wanted something more dynamic but I had no choice as there's no music on my lab computer and the radio does not present music in the evening here.
First song started: "Tonight, I'm gonna have myself..." (Queen "Don't stop me now")
Well, ok "not so energetic songs" may have been entirely wrong. In the contrary, I think I overtook a great chunk of people while this song was on.
Do you remember the shoes that I bought at the beginning of my stay here? They were very cheap, but at the same time the soles were so thin that I could feel the form of the ground. After the first round (it was divided into two rounds), I could feel that my feet were hurting a lot. Well, it hurt, but there was no particular reason for me to stop doing it (though I still became drastically slow, running like a penguin).
I finished with 1h42m. I thought a half marathon would be already quite a lot but except for my dead feet my legs were still pretty okay. I guess I will participate in the marathon in Lyon in October (stay tuned!)
I staggered back home. While preparing to go to bed, I just wondered, how many people still remember who paid my stay here in SP and for which reason. Though not that this marathon did not motivate me to continue my nerd life from next Monday on :)
Aug. 30, Soccer stadium
Wherever you go in Brazil, there are two questions that haunted me everywhere. The first one is "have you found a beautiful Brazilian girl?" and the second one "Have you been in a soccer stadium?" (whereas I have to exclude food topics because it seems to be even more important). And I could always feel the disappointment of the person who asked me these questions, whenever I say no. For the first question I probably would not make an effort as frankly there are more interesting things to do here in SP but for the second one, somewhere I was feeling the responsibility to go to a soccer stadium once, as I am here in Brazil.
Which, by the way, apparently also corresponded to Arthur's thoughts who has never been to a soccer stadium. And in spite of what you may expect of Brazil, here at the lab, there's no one interested in soccer. According to Ana's statement, a boy not interested in soccer in Brazil is considered weird, making all of us suddenly weird.
Here in Brazil, you get a students discount for soccer games (though only for Brazilian students) as the matches are sponsored by the state. So you are officially encouraged by the state to watch soccer games.
So the plan was, go to the soccer stadium and look as normal (i.e. little conspicuous) as possible in order to avoid to be Leonard at Penny's place.
At the soccer stadium, the police use horses instead of cars. I don't know what the horses think of this godless traffic of SP.
Here comes the problem: the match was to start at 4pm. And we also arrived at 4pm. There was a huge queue in front of the ticket counter. We had already bought a ticket, but there was pretty much no distinction between people who already had a ticket and those who were to buy one. So this queue was like frozen.
In front of the queue, there was a bar, where they were watching the match live. And what's more, there were 4 goals in total while we were waiting in the queue. This was pretty much the moment where I thought I would probably never go watch a game in Brazil.
Before us there was a poor couple, who had bought the tickets in the Internet, but apparently with a different credit card and could not enter in the end. They waited almost for one hour...
We could enter the stadium when the 2nd half was about to start.
My first trouble: which team are we supporting? Arthur explained it to me (which was the reason that I took a white shirt with no expression on it, inspired by the use of white flags). When I went to a stadium last time in Brazil with a friend of mine (because he got tickets for free), we did not even know exactly which side was which side. Whether I'm interested in soccer or not, still nice to know which side I'm supporting (and obviously it is better not to be on the wrong side in Brazil).
Second trouble: no idea what other people were saying. It was almost like a different country. At least I knew they were provocating the other side regularly :)
In contrast to the first half (which we could not watch), there was only one goal in the second half. Shouldn't I be granted an 80% discount?
It was also interesting to see the silent march with a couple of drunk people back to the railway. Where was the passion during the match? Since I was expecting a fight to break out, the contrast was very strong. Well, maybe I should thank the luck to not be involved in the fight.
Sep. 2, Presentation in Portuguese
For us, theoreticians, there's something really difficult to do: to present the results, since the ideas that we have are more related to the functionality of computers and mathematical logics, both of which are often fairly far away from common human understanding of the universe. Still, I usually like presenting my results in the form of a presentation.
And today, as Hélio wanted me to give a presentation to show the results of my stay here, to everyone's surprise that I came to Brazil for my research, I gave a presentation in Portuguese. And I have to say I have never given such a horrible presentation but it was a great moment to talk entirely in Portuguese.
Just in case I had also prepared to talk in English. It would have taken 10 minutes (though my speeches are very fast in English). Fortunately I did everything in Portuguese, and it turned out I talked 30 minutes in total. No wonder I could sleep so well in the night (and no wonder that Hélio was sleeping so well).
You can click on the photo to watch the first minute of the presentation.
Favela
Have you ever heard of favelas? If you live in Japan or Europe, you are probably not quite familiar with its concept, but it is something that would approximately correspond to banlieues in France, and in English-speaking countries you would probably call it a slum. Just as banlieues are a social phenomenon in France, favelas have a large portion of what actually Brazil is. As I'm always interested in all sides of a society, it was one of the most important things for me to visit favelas.
Fortunately, there is actually a relatively peaceful favela just next to the campus. And fortunately, Juliana, the girl with the orange bag on the photo, goes through that favela every day.
I did not take anything with me, just my camera and little money. The important thing here is it's not a good idea to have no money at all. I took 50 reais (approx. 13 USD), even though I don't really think it would decide dead or alive.
Juliana does not go back home very late, probably because it may become dangerous after sunset.
The campus is, just as in many countries, a desolate space, with a lot of nature and silence. It is surrounded by a wall, that is again separated by trees, water and grass field. Actually if you are inside the campus you don't really feel the existence of the wall and hence, no one probably really wonders what it exactly looks like in the outside world.
A little bit far away from the main street inside the campus, there was a hole in the wall, which in fact was a gate to go outside, even though it was just merely large enough that a normal person could go through.
And just as it was hard to imagine what the outside world looks like, it was fairly different. You can clearly see that the buildings were not constructed professionally. Generally, the houses in favelas are made of brick, but it's so conspicuous that it looks as if someone played Jenga in the large scale.
Just up to the middle of the favela I walked with Juliana. After that, while going back to the campus, I just ran and took pictures at the same time. Now I think I did not do the half marathon for nothing :)
After going back to the lab, I saw an article in the Internet about one (innocent) student of USP that was shot inside the campus by someone from the favela. And actually there was also a police raid just a couple of weeks earlier, in which a fairly high number of people died. You may have heard of this news even in different countries. So, in contrast to Zahedan (city in Iran, near Afghanistan and Pakistan), where no one in Iran could tell me what it is actually like, the danger here is real. So great I could still visit it in peace.
Sep. 6 Do you speak English?
There's this mind boggling discussion between Brazilians and me: do Brazilians speak English? In my opinion, with all my sincerity, they do. However, it doesn't matter whom I talk about it with, they always say Brazilians don't speak English. What's more startling, they say this while talking themselves in English.
Still, maybe they are right as what I'm saying just mirrors my feeling and there was nothing that I had analysed objectively. Nevertheless, I cannot really accept the idea that the Brazilians do not speak English. Therefore, I decided to take an action myself and document what would happen if I'd walk around alone in the downtown of São Paulo without speaking Portuguese. So the idea is not to find out how many people there are in Brazil who speak English, but to find out how likely it is to be helped out without being able to speak Portuguese. It also entails also the question, whether they are also willing to help people (which is not very obvious in some countries) and probably a lot more things.
Of course I needed a notebook to write down all the incidents, so I went to local Carrefour, only to find out that there was no small notebook for adults. Just only for schoolchildren. This is by the way a big problem in all the countries outside Japan that it's not very easy to find writing stuff in normal supermarkets. In Japan, there are for sure more book stores than McDonalds and pretty much in every supermarket it's possible to by a small notebook. Anyway, I could find one in the bookstore in a shopping mall near Roberto's apartment. I really balk at the idea to buy anything at shopping malls as I hate them all over the world but I also needed something for my lovely flat mates.
The weekend I chose was not particularly a good one, as the following Monday is the Independence Day of Brazil (i.e. holiday) and there was almost no one out there.
At noon, I left the apartment. The very first thing was to go to the city center. Of course I know how to get there but I just wanted to make it tricky by not taking the subway.
Just near the apartment, there was a couple, in their 40s maybe? I would have preferred younger people but since there was no one out there, I still talked to them: "Excuse me, do you speak English?"
Couple: "Yes yes sure"
To be true, I was more prepared to say something like "ok thank you anyway" as I wasn't expecting them to say yes. Fine, I asked further: "Could you tell me how to go to Paulista avenue?"
Couple: "Oh, you just have to go to the other side of the street and go straight. The first main street is called Avenida do Brasil and then you go up a hill and you'll reach Paulista avenue. But it's pretty far away. Are you sure that you don't want to take a bus?"
Well, even though I thought Brazilians would speak English well, I wan't expecting such a fluent answer... Anyway, it gave me a head start of 2-0 (both of them spoke brilliant English)
I started walking towards Paulista. On the way, there was almost no one out there. Since walking was not my ultimate purpose, I thought about taking the metro but since I was playing a foreign tourist, I did not want to go to the metro station myself. Meanwhile, I was almost in the city center. I saw two girls in front of me. Well, why not talking to them? "Do you speak English?"
Girls: "sure".
Sam: "Could you tell me how to go to Paulista avenue?"
And one of the girls took out her iPhone, which is insanely expensive in Brazil. But regardless of the price, everyone has an iPhone. And whatever the reason is, often the screen is broken. Amen.
Both of the girls apparently did not know the local geography well, as one of the girls was whispering to the other "Paulista is the metro station where we got off!" which actually is unfortunately wrong, as here in São Paulo, Paulista station is in Consolação street. And the hinky thing is, the Consolação station is in Paulista avenue.
Anyway they could tell me where the Paulista avenue was. Just to make it more difficult I asked them if there's any landmark that I would be able to recognize, which must have been pretty tricky for them as I knew that they were not from here. But the answer was quite simple: just look at the street sign. Hmmm not bad. With these girls, I hit 4-0
There's something funny about the Portuguese language. If you know at least one of the Roman languages, you certainly know that the tense system is fairly complicated in every language. However, what happens in reality is that they simplify it too much that it's quite difficult to understand in the end. A good example is here: "Quanto tempo você está no Brasil? (=How long are you in Brazil?)", which means "How long have you been in Brazil?" And they often say it in the same way in English.
Anyway, I arrived in the city center. I needed something to eat. The first guy I talked to unfortunately did not speak English (4-1), though he was apparently so ashamed to not speak English that he had to apologize several times. Brazilians by the way often feel ashamed or sorry for not speaking English here, which appears a little bit weird to me because there's no reason that they must learn English as long as they stay in Brazil.
I asked a different guy. He told me he would not speak English very well but we could still talk with little difficulty in English. Unfortunately, we were standing in front of a shopping mall. He told me I could eat well inside the shopping mall. As I told him that I didn't know what to eat, he accompanied me to the restaurant area. Now it stands 5-1 but I also had to eat in a shopping mall. They had a menu written in English by the way.
The food you get in the shopping malls is so pitiful in Brazil. I wonder why people reduce themselves to do such a mess here while there are so many good things out there, though unfortunately, Brazil is also a country of junk food according to a report from nzz.ch (in German).
I said I bought something for my flat mates the previous day. And I ate this insane food in the shopping mall: I was out of money. The guy I spoke to then was a cyclist, and of course, he spoke English (6-1). I could find a bank and withdraw money.
There's an interesting construction, Viaduct of Chá, in São Paulo, that I visited with Arthur before. I knew it was not exactly in Paulista, but not very far away. Ok, next target set. I started talking to the people. The first one was a boy of maybe 15? He spoke excellent English but did not know where was the viaduct (7-1). Then a young couple, again very good English but no info about the viaduct (9-1). Apparently this was a quite tricky one.
Then I talked to a group of three girls for sure all of them under 20, who knew where was the viaduct (12-1). Great!
So I left Paulista Avenue, which was also a financial district and the probability to find people who speak English is slightly higher. The place I was heading for was near the famous Republic square. It should be significantly more difficult to find people who speak English.
I got out of the metro and looked around: ok, here I don't think anyone would speak English. Maybe it's easier to find a drug dealer. Appropriately enough, the first person I spoke to did not speak English (12-2), though the second one, it was a couple, did (14-2). They were going in the same direction (and it turned out that it was just next to the metro station). This couple was going to the shopping mall nearby...
In the end, it was also a very easy one. Well, since I came here, I also decided to visit the Banespa building, which should be famous for some reason. This is a wonder building, that is so beautiful from far away, and so ugly from nearby. And the first couple I spoke to on the viaduct spoke English (16-2).
When I arrived at the building, it started raining. Since I was a normal foreign tourist, I wanted to go back home. The street was quite dark. There was again one couple just nearby, waiting for the rain to stop. I did not have the feeling that they would speak English but still I spoke to them. They didn't, but still they showed me the way to go to the metro station (16-4), which also is a very Brazilian thing.
Maybe one or two minutes later, there was a group of three guys, who asked me how to go to the state market. I explained it to them (in Portuguese), which also marked the moment of the end of me being a foreign tourist for the day. In total, I spoke to 20 people. And out of these 20 people, 16 spoke English and 2 of 4 who didn't still helped me out. Conclusion: Brazilians do speak English.
It was somewhat funny. Maybe I'm gonna do the same thing next week in Warsaw, Poland.
Sep. 10, Despedida
At first we were planning to go to a karaoke bar last Friday for my farewell party, which was cancelled for several reasons. Then the plan went over to grill house or pizzeria, which somewhat dwindled away too. A big problem was my flight was on Friday. And Thursday is the crossfit day, which I did not miss. In the end we came up with the idea "farewell coffee", which was totally acceptable for me, because at least before departing I could have my last päo de queijo (v. photo), which does not exist in Europe.
And there's this neat white board in our office, which is actually so peculiarly installed that almost nobody in the office can see it and therefore its content had never been modified since my arrival at the lab. Now, everything was erased and it got a new title "farewell messages for Sam and André". André is another guy in the lab who's going to the UK soon. And as you may have noticed, there's actually no message for André. Well, he still has some time before his departure. Hopefully he will also get messages.
Just as the beginning of my stay here in Brazil, the last days were also marked by continuous rain. Arthur was saying "hmmm beautiful symmetry." Lucas was saying "the sky is sad because you are leaving." Lucas asked my several times if I was sad, and every times I said no, which is a forbidden answer in Brazil. You must be sad when you are leaving. Well, to be true, if I say "I'm sad" it sounds to me like it's over, which is not what I want. I'm not sad, because I know it's gonna continue.
So, there's this thing called air pollution here and the weather was so unstable for a couple of days. What happened is I started coughing sporadically some days ago. I don't feel sick, but I still thought it's better not going to the crossfit training anymore (also not to mess up my flight). In the end, not only the farewell coffee (with Roberto and me), we had a small farewell boteco, or in Portuguese, Despedida.
A boteco is a special place. It often looks as if they were simply continuing to use the provisional café they had set up for a school festival, but it somewhat fits into the space and makes it comfortable just to laze around. And especially, the botecos are truly something for locals. I'm so happy to be part of it.
Viviam apparently still wanted to go to a karaoke bar. When she told it, she and Lucas started singing. I sometimes wonder whether Brazilians really need karaoke.
So was my last night in Brazil. I just had one caipirinha, though obviously it was strong enough. Others had beer, with one bottle apparently containing rotten beer (is it possible?). And of course, a lot of local food.
The rain seems to decide to continue. I am going the same way as my first day. The symmetry is beautiful, enabling me to look back through the precious time and uncountable number of experiences that this country and the people offered me.
Or maybe it is beautiful, because I know, putting myself in the picture, how asymmetric it is.
My personal epilogue
Out of the fear that the shuttle bus would be stuck in the traffic jam and miss my flight of 19:35, Roberto recommended me to take the bus that departed at 13:25 from Tietê, which is in the north of São Paulo and not quite far away from the airport. Although it was said on the website it would take 40 minutes from the bus terminal to the airport, it actually took only 30 minutes. Now, even after handing out the luggage, I can quietly think of my stay here in Brazil while waiting for my flight to appear on the flight information.
This stay was first proposed almost a year and a half ago by Prof. Becquart of Lille university. It was a big surprise at that time, as I did not particularly think my boss (Michel Perez) was satisfied with the results I was delivering and would propose such a special opportunity to me. This was maybe also the reason that I did not think about it after that. Essentially, with Michel insisting my stay be realized in future, I did not think it would happen, until it was officially confirmed three months before the beginning of my stay, which by the way happened to be my birthday.
It is not a very easy task to find a Brazilian in Lyon. Fortunately, one of our friends, Andrea, was in Brazil for a substantial amount of time. With the T Day method we exchanged German and Portuguese. At the same time, Roberto and I started to concretize the outline of my stay in São Paulo.
The official purpose of my stay is actually still not very clear to me, as what is written on the official draft document can pretty much be reduced to "we are scientists, so we do interesting things", there will be no official written report, and neither my boss nor Prof. Becquart told me what is expected. So I was somewhere between "enjoying paid vacations" and "frontrunner of future collaboration model".
My stay in São Paulo started with a lot of acrobatics: first I got no account on the super computer, because the technician was in vacation and I got no official status at the university. Essentially from the administrative point of view, I probably did not even exist at the university. It is apparently related to the fact that it is rare to host foreign researchers for a short period of time for research at the university of São Paulo.
However, even if the university simply dodged this question, the researchers there were as brilliant as the university is famed for being the best university in Latin America.
To be true, I was quite surprised when I found out that they were not only very well educated, but also so much interested in many things, which I appreciated a lot, because it is somehow really difficult in France to find interesting researchers (with one huge exception, a Spanish researcher who truly blew my mind, who is now also my flat mate). The fact I met someone like Arthur, for example, is already something that makes me appreciate my stay in Brazil. The number of out-of-office activities we had largely outdid my expectation.
Concerning outdoor activities, there's something that I talked about only once at the beginning of my stay, which, however, had a huge importance during my whole stay: crossfit.
After the first session, I had pain everywhere in my body, not only a couple of days, but actually it extended to the entire week, which meant simultaneously, that I was never able to recover before a new session. In fact, after the first session, I immediately realized I would not be able to continue. So my initial plan was to find a good reason to stay away and to fade out as quickly as possible without making anyone think I gave up. As I could not find any particular reason and therefore missed the opportunity every time, I ended up participating in every session, except for the last one.
However, what these crossfit sessions brought me was also something really unexpected. Despite the hardship I had at the beginning, in the end, I was among the fastest, and whenever I do complex movements I can feel how light everything became. I hope I'll continue part of the training in Lyon. The acquaintance I made there certainly will have been one of the greatest legacies of my stay here. As most of them were foreigners, I will certainly see some of them somewhere around the world.
As for foreigner activities, couch surfing was something that didn't do as much as I had expected. I went to the couch surfer meeting a couple of times, but except for the first time I did not really get involved in any interesting conversation. Interestingly, couch surfing itself is not quite known among Brazilians. Since anyway the "business" aspect is getting stronger in couch surfing and the design of the website changes so fast that it's now somewhat strenuous, and the couch surfers I met told me also that it is too dangerous in Brazil to stay at someone's place with couch surfing, maybe it never becomes popular in this country.
When I started this page for Brazil, I was not sure if I would be able to deliver interesting stories to the end. Now looking back on all the articles I wrote, I actually always updated at least 2 times a week, mostly more than 3 times. With Brazil being such an international country, it was fairly surprising that it turned out to be so interesting, so unique and so special. I hope I could share my interests and new experiences with you, even if my writing probably was quite incomplete and not quite passing the real atmosphere on. I daresay my record was quite interesting in following aspects: Firstly, I was not just a travel writer who would not get in contact with local people. I was literally living a Brazilian life with only locals around, local food and working in a normal Braziian working manner. Secondly, my background consists of Japan and Europe, with 50:50 I would say, which means, what I found interesting or unique was also very likely to be interesting and unique in every culture other than the Brazilian one (especially in Eurasia). Thirdly, I was able to learn the Portuguese language within a quite short period of time, meaning I was able to get in touch with the core of how and what Brazilians think, without its freshness having dwindled. In this regard, several people asked me whether or not I was interested in publishing this record. If it was meant to be earning money, I'm not particularly interested. However, if it helps to better understand Brazil, both Brazilians and non-Brazilians, you are very welcome to do whatever you like with my blog.
And all these interesting experiences were in fact also interesting, because the main motivation of my stay, the research, went also very well. And it was quite well organized thanks to the great coordination of Roberto. In fact, I had already had a certain degree of respect for Roberto, for doing sincere research. Especially when it is about tiresome work to read scientific journals, I just simply admire his unflinching attitude (also because I'm too lazy to do it). So, anyway I was looking forward to working with him. The story started to take an entirely different direction, when he spoke of a problem that he had with one of his students.
There's this problem in the (theoretical) scientific community, which I also talked about last year, that the scientists have very good understanding of natural phenomena, but they cannot use modern tools, such as parallel computing or multi-scale methods, simply it requires firstly a deep knowledge in computational techniques and ability to think numerically, which often is quite far away from the human understanding of the nature. I wasn't quite aware of this fact until last year, probably because at the university of Göttingen it is more than just necessary to be able to write programs. Still, I had pretty much no knowledge in materials that I had never touched before. Roberto delivered it to me, and everything worked perfectly.
It was a huge game changer of my future, as it allowed me to know what my skills are actually good for, and now I don't have to get frustrated with unfruitful results of my thesis all the time. And it must have largely corresponded to what was initially expected from my stay here, that is to say, future collaboration. In this sense, I can now really look forward to coming back to Brazil to continue what we did, and I'm also looking forward to Roberto's visit to Europe.
I talked only about good things so far. However, there is something I am not particularly proud of. If you are foreigner living in Brazil or planning to stay there for a substantial amount of time, like for some years, you will need to do what is called RNE, foreigner registration. So foreigners who stay here more than 30 days with a visa other than the tourist visa must go to the federal police within 30 days of arrival. So, essentially, the Europeans do not need it as long as they stay within the visa-free limit of 90 days in Brazil. The problem is also, the registration is said to finish 6 months after the application. So anyway I would not have profited from being registered, except for the high fee (I have to check...) and bothersome round trip to the federal police, which happened to be pretty far away from Roberto's apartment.
However, I still think rules are rules. You have the right to disagree, but you cannot disobey them. The problem was just I had completely forgot about its existence and when I noticed, it was already too late. So I decided to stay there without RNE.
Which, by the way, made a small drama at the airport.
The police officer, who controlled my passport at the border control, looked like an old veteran. He took my passport and scanned it in a skilled and quick manner. Click click... and BANG: error. In front of his windows computer, he himself became like windows 98 for a couple of seconds.
He goes back one step and redo the same step: still same error. Checks my name and the passport number: no mistake. Looks at me: the right person. Notices there was the entry stamp: far beyond 30 days.
This is the tricky part of the whole story, because the police officers cannot ask me whether I did it or not, because if he gets the answer "no", then he is responsible for the consequences. So unless your police officer is willing to push you, he or she will probably not ask you anything, if there's a problem.
In my case, anyway, he studied my visa one more time. He must have seen that it was valid for 3 months. And especially, I am a scientist. After a long pause, he took the stamp and let me go. Bravo!
So far, I've been writing this article only from my personal point of view. However, as well as Michel, Prof. Becquart and me, there was some intention of other important personalities that played an important role in the realization of my stay here: Roberto and Hélio.
Even though this university offers excellent education, it is not very common that Brazilians go abroad and have an experience of longer period of time, which would be somewhat impossible in Germany for example. Roberto and Hélio basically hoped my presence at the lab would make it easier to go abroad.
Experiences abroad are something very special and often also something that is really difficult to pinpoint to say what is so special.
An easy example can be taken from the conflict between Korea, China and Japan over the last 100 years. Japanese people essential never apologize for what they did in the war, because they fear that by apologizing, they think heavy war reparations would be demanded by Korea and China. Korea and China, on the other hand, want Japanese to recognize the war crimes, because they strongly fear another invasion of Japan. Both war reparations and Japan's invasion are stupid ideas for the other side, respectively (though objectively, Japan's invasion is slightly likelier to happen as in order to invade a country you just have to change your current view of the other country, whereas in order to demand war reparations, you have to change the perception of the past, which must be way more difficult). Just by visiting the other country, you would be able to realize how stupid your idea was. And more importantly, you cannot just read or hear about this kind of stuff.
Or by comparing the working manner of France and Germany, where the former has the culture of communication during the working hour, which may appear simple jibber jabber for Germans. I just put it in a phrase, but the amount of pro and contra is simply mind blowing, with some arguments sometimes backing both sides. How you feel about the difference and how the system works under these circumstances, is something you can only find out yourself.
Even if the stay itself is not as good as you had expected, still you learn the value of your normal life back home, like for example, now being in Lyon, I found it mind boggling that the car stopped for me at a crosswalk, or how precious it is, that you can simply get the tap water and drink it, or that you don't have to see the legacy of other people next to the toilet. Of course these were the things that were entirely normal before going to Brazil. I just became aware of them, because these things were not normal there. For Brazilians, the importance of never finding hairs in the food in Brazil, or the liberty of selecting whatever you can for your lunch, is certainly something they are aware of, but must be of great importance.
I put a couple of arguments, and there are a lot more things, some I can tell, others I can't. However, whatever I think, the question itself is actually much more simple: are you looking for some adventure, do you want to speak a new language and do you want to have a lot of new foreign friends? The language and getting through an adventure may sound difficult, but the reality isn't that complicated, because as they saw during my stay, there was no miracle. And I am happy that I got the brightest brains of Latin America as witnesses.
Well, now I think that maybe the fact that I wasn't so sad when I left Brazil is another way to express I am looking forward to seeing them somewhere in this small world.